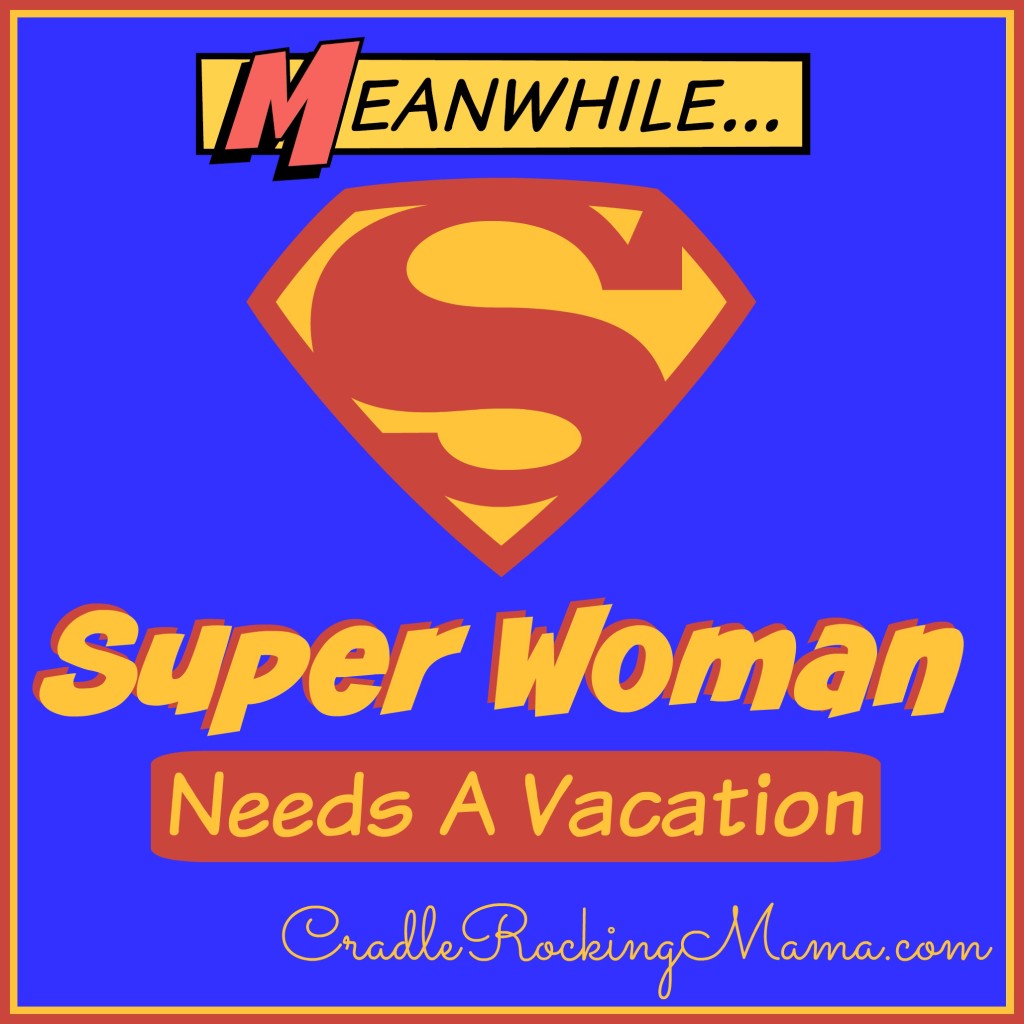 If you follow my Facebook page, you'll know where I've been the last two weeks. On vacation!
Sort of. 
June is pretty jam-packed for our family; my birthday, Jed's birthday, Zac's birthday, and Father's Day all hit at once. We have a double birthday party for the boys in June every year, rather than having to do two separate parties three weeks apart.
My birthday basically goes un-celebrated these days, since the kids birthdays have completely overshadowed mine. That's okay, actually. The only thing I ever really want on my birthday is to NOT be on an airplane! (Don't ask me why, but it seems like every year that I work on my birthday is the day weird stuff happens. As in, 'call security or paramedics to meet the flight' kind of weird. I don't need a lot for my birthday, but I'd rather not have to deal with that!)
Consequently, I bid for vacation days on or near my birthday to make sure I'm not going to have to work that day.
That worked out great this year, since it ensured I had not only my birthday, but Jed's birthday off, too. It also provided me with my only complete Friday-Sunday weekend off the whole month.
Remember when I mentioned selling the kids Thomas bed in my quest to "clean out the house, sell off the good stuff and make some money"?
Well, endlessly optimistic me decided to hold a garage sale for all that stuff we cleaned out.
Garage sales happen on Friday and Saturday.
Last weekend was my only Friday and Saturday off the entire month.
Saturday was also the day of the kids double birthday party.
Is anyone else reading this and thinking "Is she insane?"
Yeah. I didn't think it was insane until about Thursday. By then it was too late to reschedule everything.
The last twelve days have been full throttle, pedal to the metal, 4 hours sleep per night, absolute frenzy!
I'm exhausted. 
The good news, though, is that all my projects turned out to be huge successes! The garage sale cleared out a TON of stuff and netted us a nice profit, and most of the stuff that didn't sell has either already been donated or will be soon.
Some of the nicer things that didn't sell I brought back in to the house to try and sell online. I'm going to give it a month; if they don't sell by then, well, hello Salvation Army!
Consequently my house is looking much better.
In fact, I'm inspired to get rid of MORE junk. I was shocked when I realized that my house looked nicer after the party than it normally does! So this will be an ongoing project, I think.
Every now and then it's important to get rid of the things you no longer need or use in order to make room for the life you are living. 
Better than the garage sale is that the boys birthday party was a huge success! Thanks to engaging with the world a bit, we had 6 kids come celebrate with the boys.
We finally had a REAL birthday party!!
Jed was beside himself. 
Ever since Zac's birthday, Jed has asked about his birthday at least ten times a day. When we revealed that we were having a party for them, he got so excited I thought he would explode!
Every morning he would ask "Is today my birthday party day?"
Every. Morning.
For weeks. 
The whole week was spent prepping for both the party and the sale. Darrel spent hours in the yard, hauling trash, mowing, weed eating, cleaning up the outside, and tidying up the porches.
I spent hours inside cleaning, sorting, pricing sale items, cooking, and advertising both the party and the sale online.
Not to mention the typical "cook 3 meals a day from scratch" and basic functional life necessities.
Friday was to be our first sale day, and it was scheduled to rain.
We don't actually have a garage.
I didn't fancy standing outside in a downpour while all our stuff got drenched, but I'd already advertised the sale.
Solution? We set up the garage sale in our living room!
The threat of rain kept most people away in the morning, but by noon it had cleared up and the garage salers came out to shop! Our first sale came at 1:00 pm, and the rest of the afternoon had a nice turnout.
Saturday was beautiful weather all day, and the sales started bright and early. Thankfully, they naturally dwindled by 1:00 pm, which gave us time to clean ourselves up and set up for the party.
Side note: you didn't think I did this all by myself, did you? Not only did Darrel and I work nonstop for a week, but my Mom came over on Friday to help with the cakes and both my parents came early on Saturday to help set up for the party. We could not have done this without their help!
The party was scheduled for 3:00 pm, and we were ready to go.
Homemade items on the menu:
two birthday cakes for Jed & the guests
one cake for Zac
one cake for me
Banana ice cream for everyone
Banana ice cream for Zac & me with his special bananas
Grilled burgers
homemade ketchup
Homemade salsa
Lemonade (Jed squeezed almost all the lemons by himself!)
Cucumber infused water
Orange and lime infused water
We bought store bought buns for our guests, corn chips, potato chips, mustard, mayonnaise, and lettuce, tomatoes and cheese.
My entire goal was a birthday party where everyone got to eat basically the same food. At their own party, my kids were not  going to be told they couldn't eat the food! 
Sure, there were lots of things Zac couldn't have and a few things Jed couldn't have, but everyone ate hamburgers, cake, and ice cream.
Beyond the food, we had a game of "stick the funnel on Thomas" (you knew this was a Thomas themed party, right?), in which both of my boys cheated. They didn't understand they had to leave the blindfold ON!
After that we had presents, which, thankfully, was just the right amount of "stuff" (since I'm clearing out stuff right now!).
Once the presents were done, we headed outside for piñata time!
Jed and Zac were so excited about the piñata! They'd never seen one before, so when I told them what it was and we went shopping for it, I thought Party City would never recover from the shrieking and sheer enthusiasm the boys displayed!
They didn't pick the obvious Thomas piñata; they went with the knock-off train shaped piñata. It was smaller, but it made them happy.
Then we stocked up at the dollar store for goodies to put in the piñata. With food allergies, there was no way I was putting candy in there. None of it is safe for Jed or Zac, and it was their birthday party! They needed to be able to participate in all the fun!
Fortunately, I think the kids at the party thought a toy-filled piñata was even better than a candy-filled one.
Plus, it doubled as their thank you gift! I wrote "Thank you for coming to our party! Jed and Zac" on the outside of plain gift bags, handed them to the kids, and let the whacking begin!
Two thoughts about this: one, when did it become "the thing" to give gifts to people who come to your birthday party? We didn't do that when I was a kid. It was enough to be fed cake and ice cream and get to play with your friends. I don't get it.
And two, when did whacking a piñata become too "violent"? Nowadays piñata's all have strings that you pull to open them up, so the kids aren't "encouraged to be violent". Say what? It's a pinata!!
We got a stick and let them whack at it the old fashioned way. It was loads more fun than a tame string-pulling!
Anyway, after the last of the goodies had been scavenged by the kids, everyone said thank you and bye bye and went home.
Whew!
Since the weekend, the week has been spent doing some required computer training for work, blueberry picking, goat milk procuring, donating unsold items, online garage sale attempts, and cooking enough food for me to eat this weekend at work.
I need a vacation from my vacation!
Oh, I called myself Super Woman in the title. I'm being facetious. I don't really think I'm Super Woman.
However, one couple came to our garage sale on both days, and after seeing all the craft supplies I was selling, some of the handmade stuff I was selling, the headboard I made from scratch with my mom, and noticing how I'd decorated my home, the lady informed Darrel "your wife is amazing! You know you've got a superwoman there, right?"
To which he wisely replied in the affirmative. Obviously.
I was amused. 
But a little something that showed up a few days later made me laugh out loud: the boys got Super Hero capes and masks!
Well, if my sons are Super Heroes, I guess I can pretend to be Super Woman, right? 
We've been having fun being Super Heroes this week, though I think Jed and Zac are just as worn out as Darrel and I are: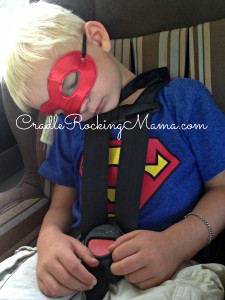 Yep. The Super Hero family needs a vacation.
Or just a week of good sleep.
---
How are you doing? Do you find kids birthday parties and garage sales as exhausting as I do?