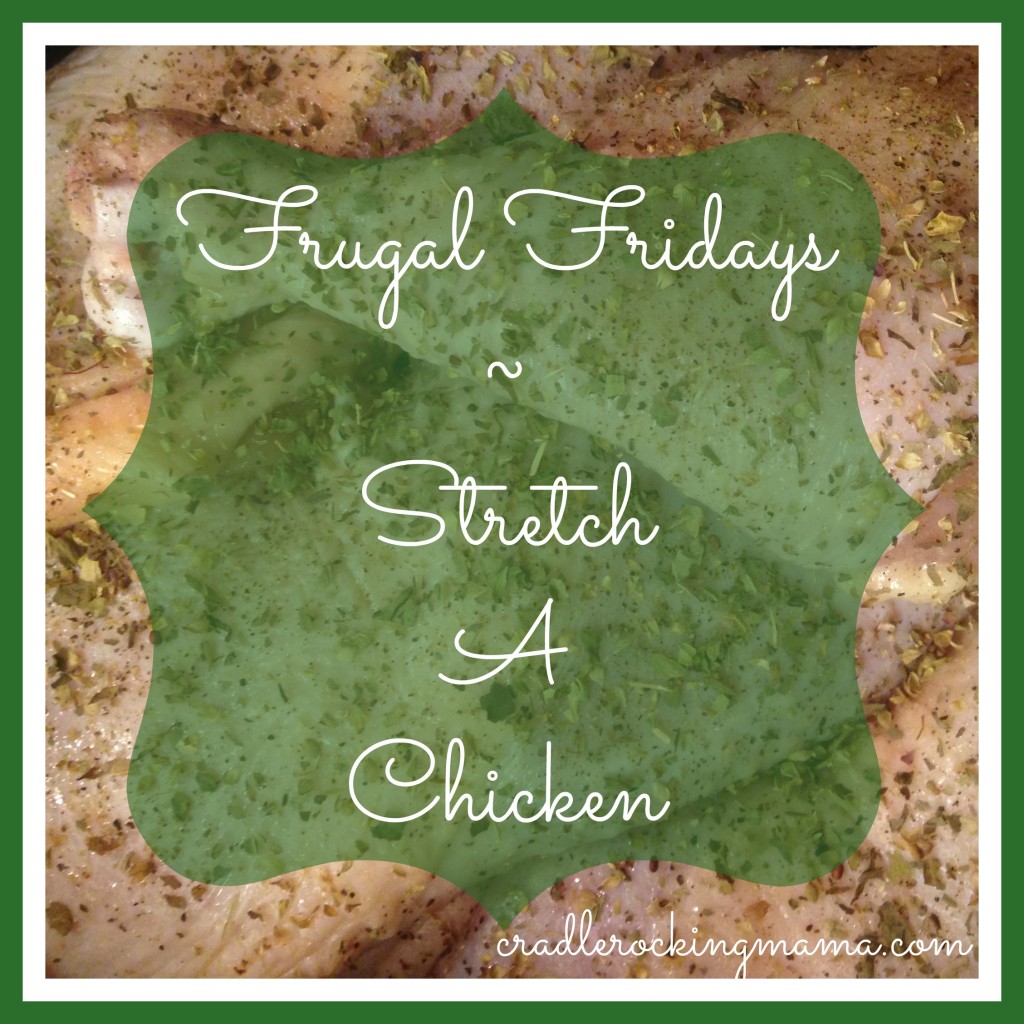 I know, I know, this isn't exactly a new idea. But it's quite brilliant at stretching your budget, and therefore earns a spot on the Frugal Friday roster.
Make your chicken work, baby! Take every little part of it and make it squawk for mercy from the relentless stretching you put it through!
Everyone says to do this, but sometimes it sounds a little overwhelming. Sometimes a visual aid is helpful, amiright?
So today I'm sharing how I took 4 chicken leg/thigh quarters and turned them into 3 dinners and 2 lunches for my two fellas.
Start off with buying some chicken.
This is the best chicken I can find in my area, unless and until my parents stop raising laying hens and start raising meat chickens. You'll notice I spent $5.16 for this package of 4 chicken leg quarters.
I took my chicken and put it in a crockpot, then seasoned it lightly with sea salt, pepper, basil and oregano. No real reason, except that Darrel and Jed like those flavors. You can season your chicken however you like.
I let it go on high for about 6 hours, which fully cooked the chicken and gave me a nice start to a broth.
That was it for Dinner #1: each fella got a chicken quarter and some Mac 'n Cheese.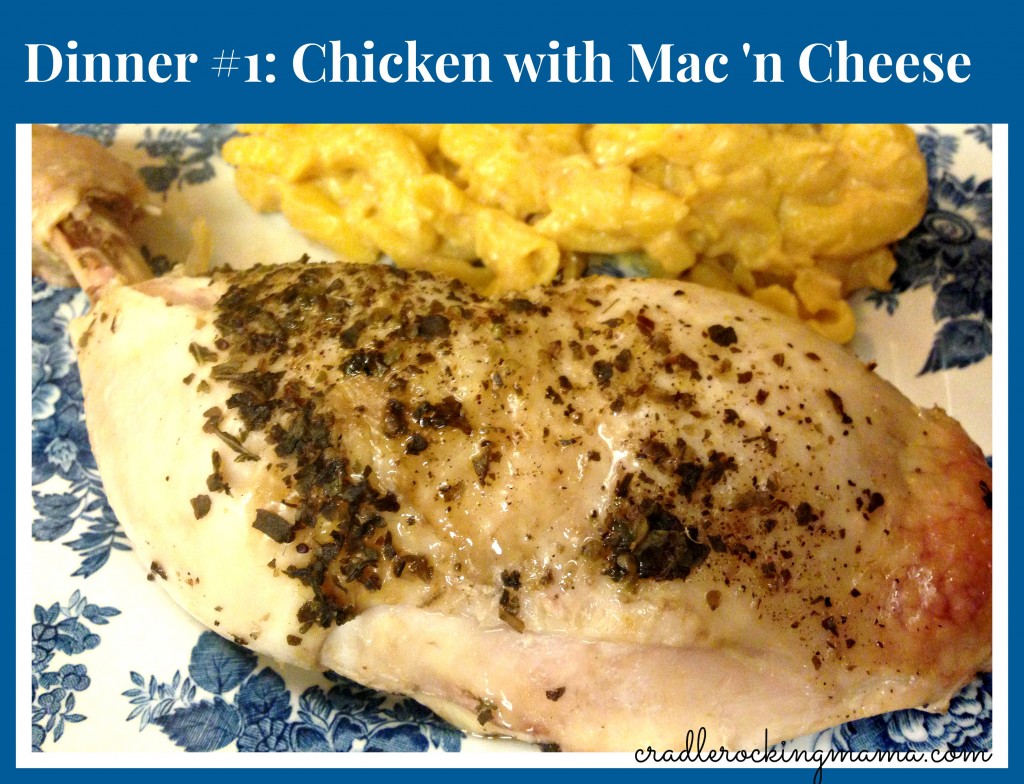 Of course, Jed didn't eat all of his chicken, so we simply picked what he hadn't eaten, added some Mac 'n Cheese and his leftover chicken to a container, and Lunch #1 was ready for the next day.
The rest of the chicken, I picked off the bones.
Then I tossed the bones back into the crockpot, added water, and set it up to cook on high for 24 hours to make a nice chicken broth. That netted me about 8 cups of chicken broth, plus the fat that rose to the top that I can use in other ways. (No picture of that, but, well, it's broth!)
For Dinner #2, I vacillated. Finally, because I'd made that yummy Cauliflower Cheese, I decided to go for some Quesadillas.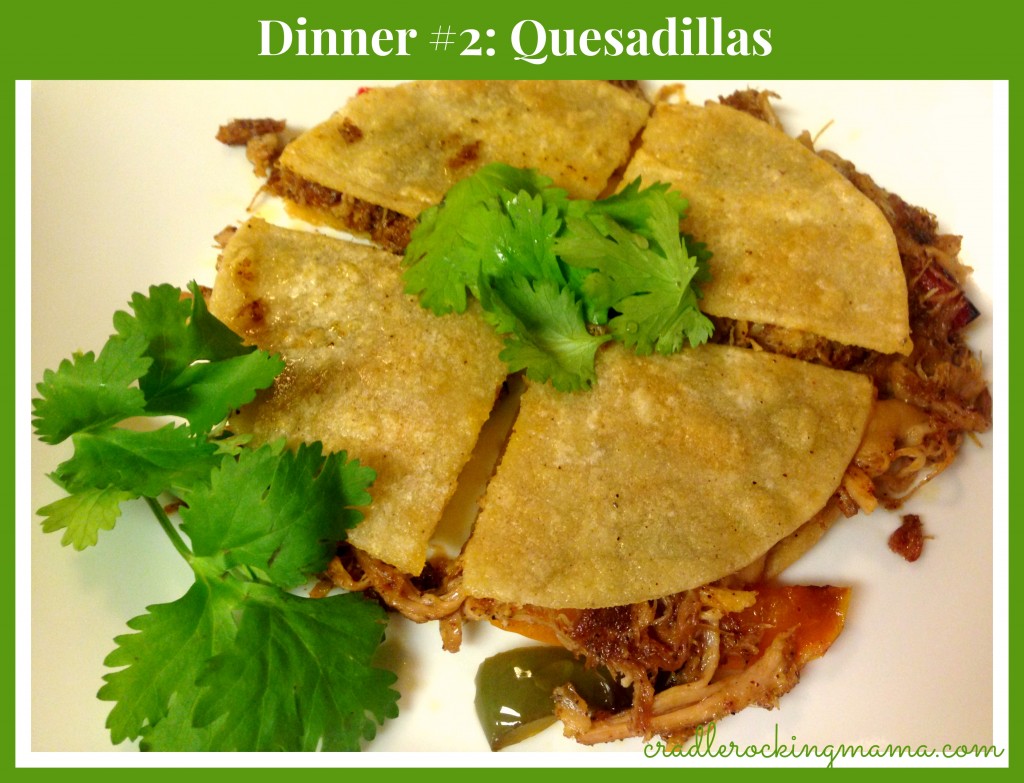 This would have been a great time to make either the Chicken & Rice Casserole, or the Hearty Creamy Chicken Soup. But, I had cheese, so why waste it?
This time, I did  have my homemade taco seasoning mix ready to go, so I used that. (Recipe will come, I promise!)
Unfortunately, my guys LOVE my salsa, and had scarfed down a TRIPLE BATCH of it in less than a week! (Jed will actually just drink it out of the bowl!) So I didn't have any salsa to go with the quesadillas. No problem, though, because I just whipped up a serving of guacamole and they were quite happy.
After eating their fill of quesadillas, I still had a decent portion of taco-seasoned-chicken leftover. 
There was enough to make Jed a quesadilla for lunch the next day, so that was Lunch #2. 
After that, though, there wasn't just a ton of meat. Honestly, I didn't think it would stretch quite this far! But to make it stretch all the way and beg for mercy, I did a "meal in a bowl": I cooked some rice, heated up some corn, and mixed the rice, corn, and taco meat together in a bowl and called it "dinner"!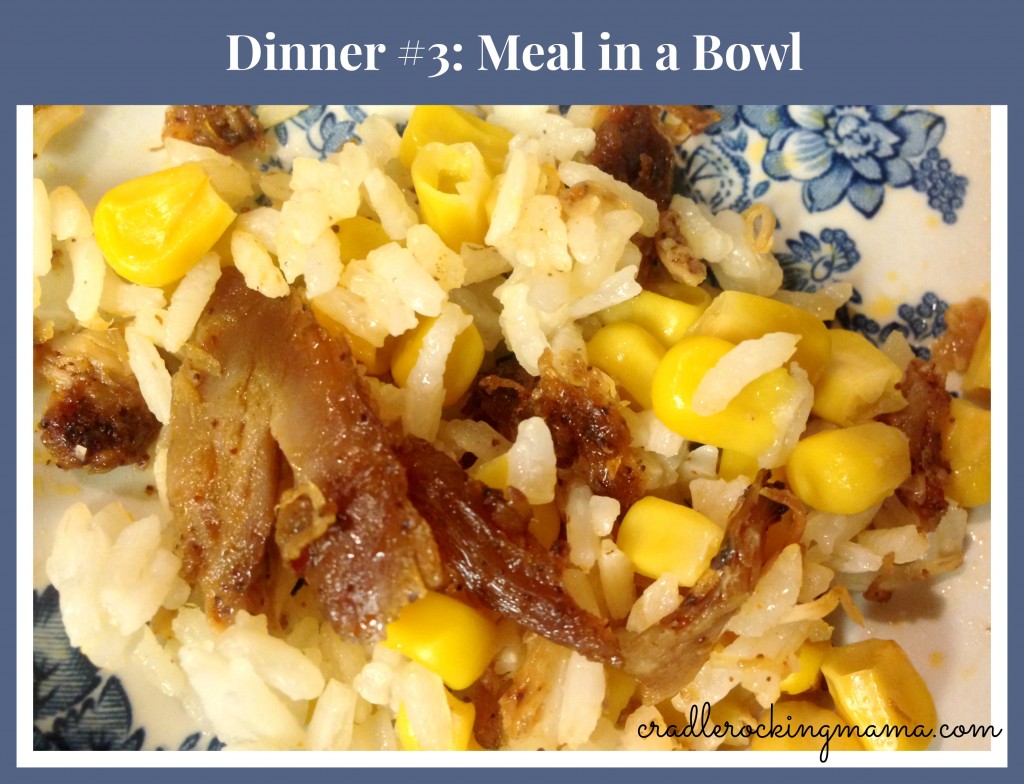 I used 2 cups of my chicken broth to cook the rice with, and still have about 6 cups of broth to throw in the freezer for other purposes.
All in all, I managed to make this $5.16 package of chicken into 8 servings of food for my two guys. That's a mere .65 cents per serving for their protein source, which, when you can't do most beans, is a really good deal! (That's not counting the value of the broth, either.)
I could have gotten it cheaper, of course, if I'd used coupons. As it is, this was a 'special' price at the grocery store. So you'll want to pay attention to how much you're paying for your chicken to begin with.
After you've gotten your excellent price point, then it's up to you to stretch your chicken as far as you can.
I think I've shown a pretty good example of stretching some chicken meat. Just plan ahead, and think "How can I use every part of this ______?" and you'll be fine.
This is an appropriately timed Frugal Friday post, I think, because next Thursday most of us will be faced with a friggin' TON of leftover turkey meat!
So I'd encourage you to think outside the "cold turkey sandwich" on Black Friday and find ways you can stretch that Thanksgiving turkey in to multiple full meals for your family.
Remember, anything you can do with chicken, you can do with turkey, instead. 
Hope that helps!
__________
What are your favorite ways to stretch a chicken (or turkey)? Any tips you'd like to share? Leave a comment!