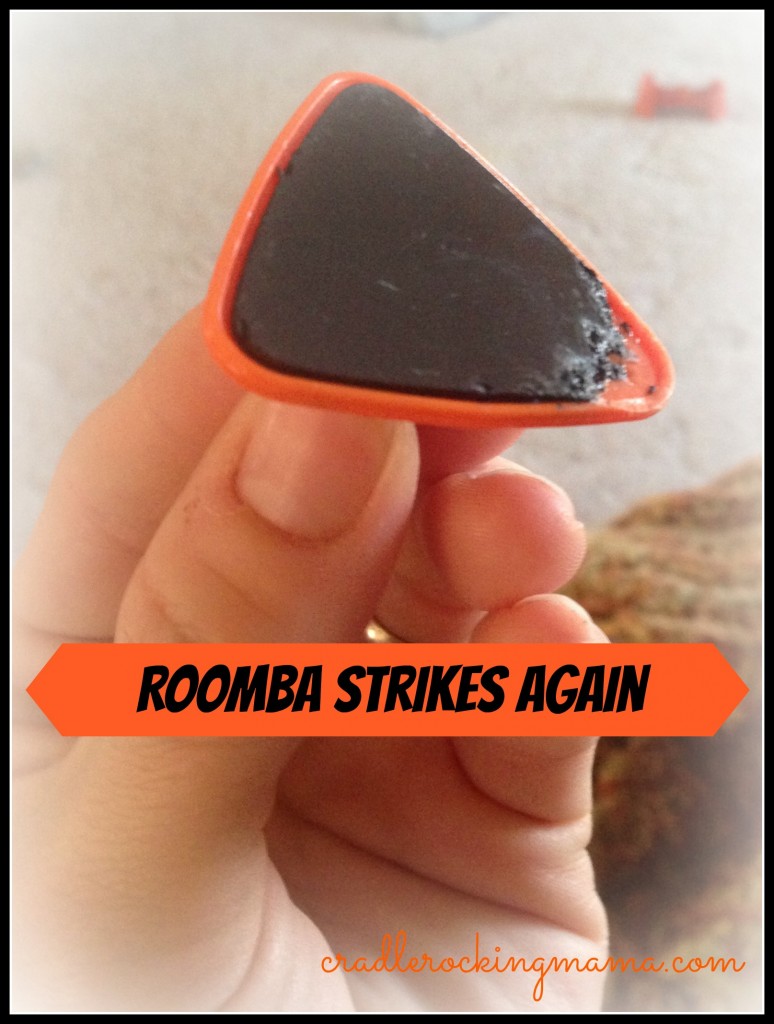 At the end of August, I flew home in a frenzy because Zac drank some of his brothers almond milk and had an FPIES reaction.
Only a week later, just as his heinie had started to heal from that, he ate some cat poop. Sigh. The bloody diapers began again.
Weekend before last, we were excited to see two days in a row with NO poopy diapers. Surely he was getting back to baseline and we could finally  retrial the Alimentum RTF!
Until Sunday the 15th. That night he gave us another reaction diaper full of who-knows-what. This time, we don't have a clue what he ate that set him off.
All we know is that it has now been nine days and he's STILL not back to baseline.
See the picture at the top? That is a triangle magnet that came with the Magna-doodle we bought Jed to practice drawing his letters. Zac chewed and gnawed on it enough that he actually ATE THE MAGNET! I've found some other interesting things he's eaten over the last month, too:
So no, we really don't know what he ate this time that set him off. All we know is, we still can't re-trial the Alimentum RTF yet.
I swear, our GI and Allergist are going to wonder "What are they doing? The child still hasn't been trialed on any foods?" when we get there next week.
Yes, our follow-up appointments in Atlanta are scheduled for next Monday, and we really don't have much in the way of progress to talk about with either doctor.
No new foods for Zac, no home-based egg trials for Jed.
Sigh.
I really, truly believed we'd be further along than this by now. FPIES sucks.
Well, if all goes well, we'll be pouring some Alimentum into sippy cups for Zac to chug down when we're in the doctors offices next Monday. Then we can at least show that – hey! We're TRYING, PEOPLE!!!
Compounding the issue is the fact that as long as Zac is nursing as much and as often as he is, there really is no way for me to pump extra milk for him. I haven't been "free" from a nursing session long enough to pump in 24 days!
So if the Ali isn't safe for him…well, we're about 85 ounces short of pumped milk when February comes as of today.
<shakes it off> Well, as Scarlett says, "I'll think about that tomorrow."
In other news, Darrel and I are busy preparing goodies to sell at a Festival in two weeks! Darrel's Mom decided to get a small booth at the festival, and invited us to join her to sell Darrel's pictures and my necklaces.
We've already attempted to sell our wares at a craft show earlier in the year; it wasn't a total wash, but it didn't go nearly as well as we would have liked.
So I decided to branch out and make more stuff to – hopefully – attract more people in to the booth.
I'm busy making t-shirt scarves, seat belt pillows, different necklaces, bracelets, button bookmarks, and other miscellaneous goods, while Darrel has been ordering prints at reasonable prices in hopes that people will buy a "ready-to-hang" photograph of his.
It's a small outlay of money, but I truly have confidence we will re-coup our investment and make a good profit, which we have undoubtedly already spent. Did I mention we're flying to Atlanta next weekend for more doctors appointments?
This is all while I have a few ideas ruminating in the back of my head, and for these other ideas, I need to ask for your help.
I've thought about writing some e-books; some I want to offer for free, some I plan to sell. So I'd like to ask for input on the following ideas:
What do you wish you'd known when you got your childs FPIES diagnosis?
What are the best things you've learned about FPIES during your journey? (diagnosis, treatment, reactions, medications, food, anything you found to be the most helpful things you learned!)
What do you find most challenging about cooking for FPIES/Food Allergies and the rest of your family? (Multiple meals, cross-contamination, meal planning, grocery shopping on a budget, etc.)
Obviously, I've been thinking about this a great deal on my own, but your input would help clarify what would be most useful for a book. I really, truly appreciate your help!
If you could take a moment of your time to share your thoughts on those subjects, please leave a comment on this blog post or on my Facebook wall. 
Thank you SO MUCH!!
__________
So, that's our little world. How was your weekend?