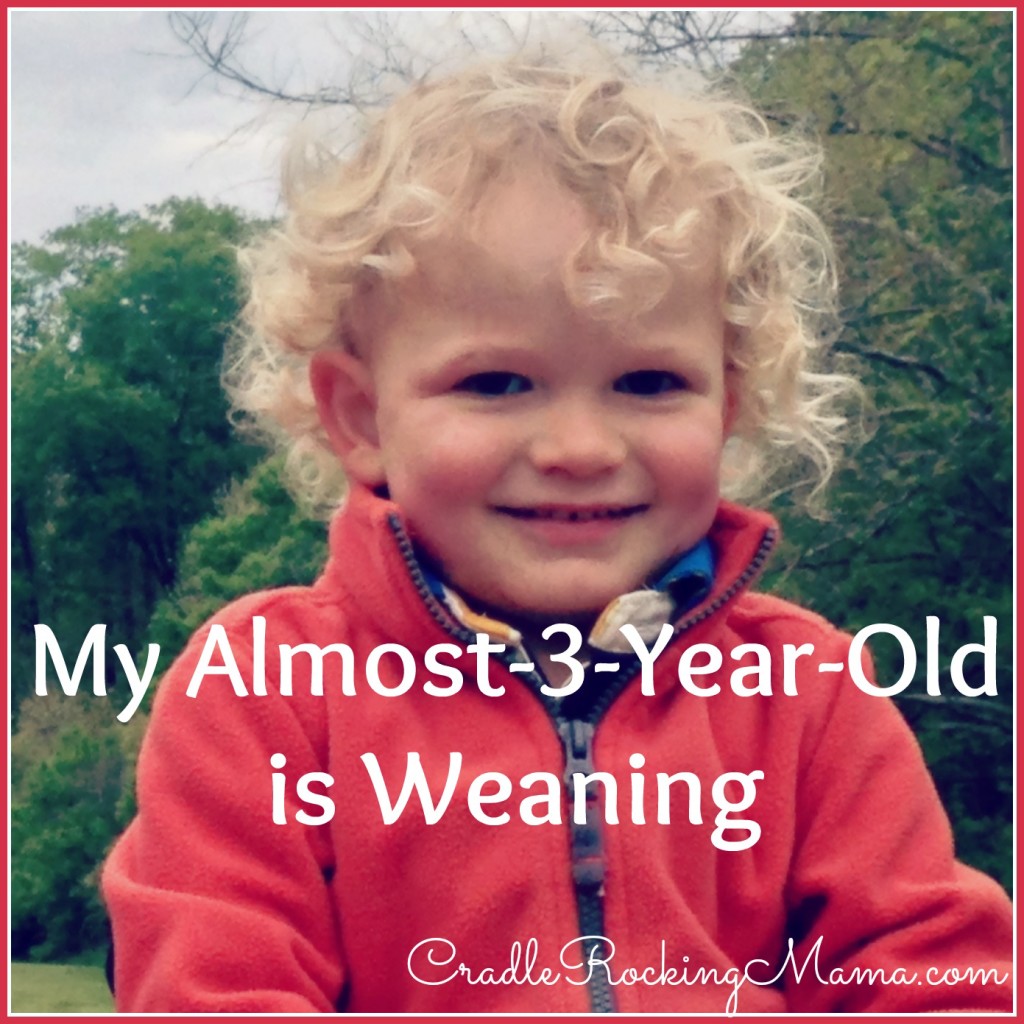 "If the kid is old enough to ask for it, they're too old to be nursing."

"Look, I'm all for breast feeding, but it's just creepy when the kid isn't a baby any more."

"That's just…wrong!"
We've all heard those comments about extended breast feeding. In America today, breast feeding a child past 12 months is generally considered skeevy and obscene.
People are entitled to believe what they want…even when they're wrong. The WHO recommends breast feeding for three years, because mothers milk is so powerful and healthy for our children.
In my case, even with the WHO recommendation, I don't know that I would have continued to nurse Zac until his third birthday – had I not had to.
However, FPIES meant he had no other source of food. He didn't get his first safe food until he was 17 months old, and he reacted to every formula we ever tried on him.
For my son, breast feeding for as long as possible was, quite literally, a matter of life or death.
From the beginning, I said that I would nurse Zac as long as he needed it. The goal with Zac was always "Zac-led weaning", though I'd hoped to make it til at least his 3rd birthday.
Normal people would look at me askance when I told them the plan; they'd ask things like "but what if he still wants to nurse when he's 5?"
"Then I will still nurse him when he's 5." I would reply.
People not in our odd situation just didn't understand. Not only did my son desperately need my breast milk to stay alive for far longer than typical babies do, but he can tolerate no pain medication (thus far).
Nursing is the only pain relief he has.
If he still needs to comfort nurse because he is hurting, as his mother, I can't bring myself to take that away from him.
While I would happily nurse Zac for many more years, I've been dealing with the growing realization the last two months that my precious Zac is slowly weaning.
Ever since I returned to work, I exclusively pump on enough days of the month to get an idea of how my supply is doing. Of course, the pump isn't nearly as efficient as the child is, so I don't ever say "Oh, I'm making X amount of milk per day" based on my pumping output. But it gives me a general idea.
When I started pumping at work last year, I easily got 3-4 ounces every 4 hours. By last fall, I was getting 3 ounces every 6 hours. By January, it was 2 ounces every 8 hours.
Starting around the beginning of March, I only got 1 ounce every 12 hours.
The last two times I've gone to work, I've only come home with 2 ounces total milk after 4 DAYS.
Like I said, though, the pump doesn't fully indicate supply. I haven't been stressing over the reduction. After all, he IS almost 3 years old. A reduction in supply is probably expected and fairly normal.
And he is still nursing.
However.
The sad signs of weaning aren't from my reduced pumping output. The sad signs of weaning are from my son.
Thanks to the lost bag and the ensuing iPhone debacle, I lost ALL my nursing records for Zac since June 2013. Even without seeing those records, though, I know that he suddenly stopped nursing as often towards the end of February/beginning of March.
Prior to that he nursed every 2 hours throughout the day and at least twice during the night. Yes, my two and a half year old son was still nursing at almost a newborn schedule. Thank you, FPIES.
Suddenly he was occasionally sleeping through the night with no nursings, and would skip one or two nursings throughout the day.
By a month ago, he was down to nursing only 4-5 times during the day. Last week, he was nursing only once or twice during the day.
Even more sad for me is that occasionally he would finish nursing at bedtime, and instead of falling asleep as usual, would ask for a bottle of goat milk. 
He started telling me that sometimes he didn't get enough when he nursed.
Sigh.
This is sad for me. Most people probably won't understand this, but I LOVE nursing. I loved nursing Jed and I love nursing Zac. The majority of my 30's has been spent either pregnant or nursing. It's become normal for me. Beyond that, though, I love the comfort and bonding I have with my sons when I nurse.
Since Zac is the last child I will likely ever have, when he weans completely, that's the end of nursing for me. The thought of that makes me feel a little heartbroken.
On a more practical level, though, it's been messing with my weight, which is giving me anxiety that I wouldn't have imagined. Without the calorie burning effects of breast feeding, my body wants to pack on some pounds.
My whole adult life, I was fat. Obese. Going on the TED for Zac caused a drastic 63 pound weight loss for me, which has held steady for almost two and a half years.
Until two months ago, when I suddenly packed on 8 pounds seemingly overnight.
My size 4's didn't fit any more. I had to go up to my size 6's.
My previously obese self would have raised a lip in disgust at some Skinny-Mini freaking out over an 8 pound/single dress size weight gain. I know exactly what I would have thought: "What on earth is she complaining about? She doesn't know what fat is!"
Except, I DO know what fat is for me. And I remember how my obesity snuck up on me. I didn't get fat overnight. I got fat 5 pounds at a time.
So that 8 pounds officially freaked me out.
I struggled to lose weight for years; now that I finally am at a size and shape I'm content with, I don't want to lose it.
I've managed to lose 5 of those unwanted pounds, but I'm still 3 pounds heavier than I'd like.
Three pounds.
Its sounds like nothing. But it makes my clothes fit juuusst  tight enough to be mildly uncomfortable.
I'll keep working at it, and if I can't lose that three pounds, I will accept it. (I'll do everything I can to keep from gaining MORE, though!)
On the plus side of weight (ha ha), Zac is steadily holding at almost 31 pounds now! That's the heaviest he's ever been, so any concerns I might have had about weaning are clearly unjustified.
Breast feeding or not, my son seems to finally be able to hold his own. We've obviously, blessedly, reached the point where Zac can stay alive without nursing.
And for that, I'm eternally grateful.
---
Did you do extended breast feeding? Were you heartbroken or relieved when your child finally weaned?