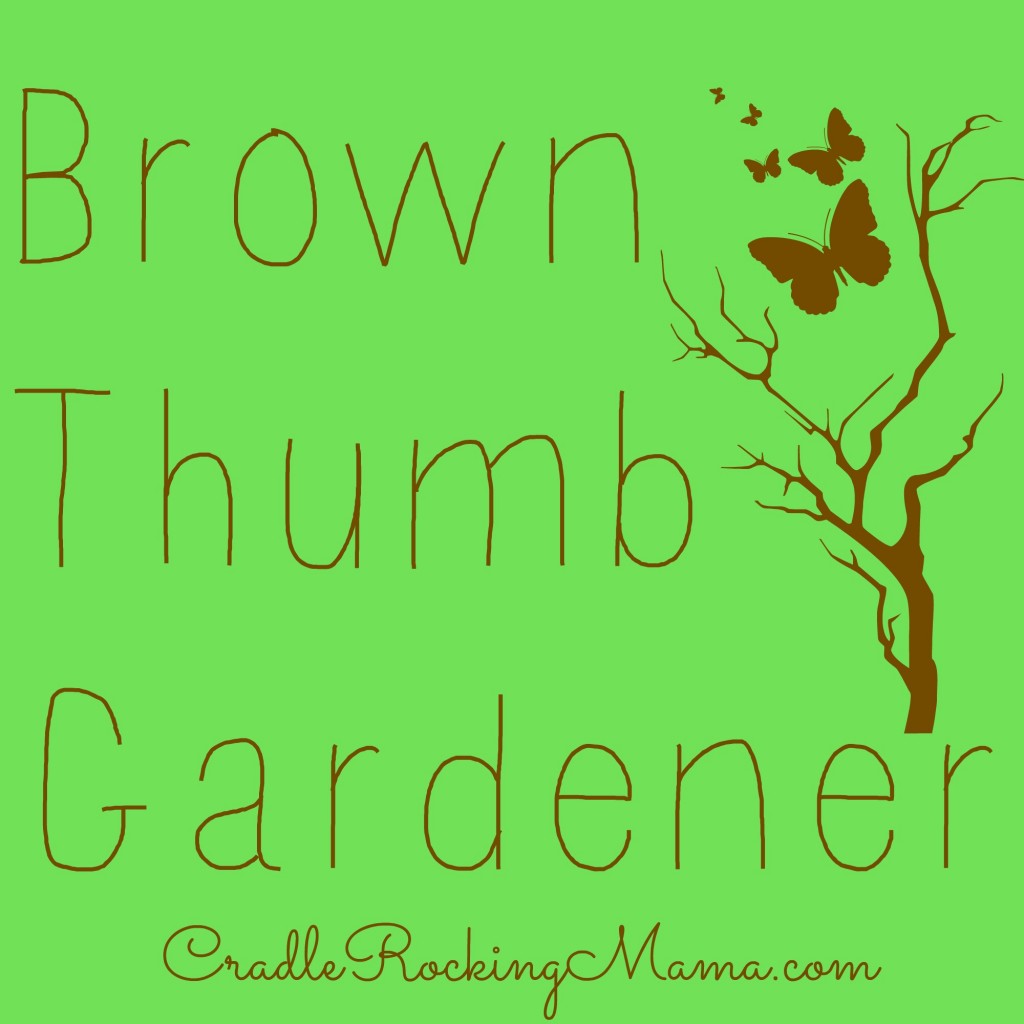 My Nana was amazing. She could take a cut flower, stick it in some dirt, and in two days she'd have a full, blooming bush of flowers.
Okay, I'm exaggerating. But not by much. She really did have a knack for growing things, and almost every plant she touched bloomed and thrived.
I did not inherit her green thumb. 
My 6th grade science fair project almost netted me a solid "F" because I chose to do the simplest of all science fair concepts: growing beans in cups with different conditions to prove a theory. (You know you did it, too!)
Not only did the beans watered with motor oil fail to grow, but I pretty much killed all of my control group, too. 
My gardening skills didn't improve much over the years.
Yes, folks, I have what I affectionately call a Brown Thumb. (When I'm feeling particularly frustrated by this knack, I call it a Black Thumb.)
Having a brown thumb hasn't really been that big of a problem in my life, though. I mean, most anything you would want that once was a living plant you can just head off to a grocery store or flower shop and buy, right?
Ah…those were the good ol' days.
Now, with Zac's FPIES to corn, I've been having a helluva time finding fresh, frozen or canned produce that is NOT corntaminated in some way. It's a lot harder than it looks to find a vegetable that hasn't been sprayed or fed a corn-derived product at some point in its life!
It's so hard, in fact, that I've decided the ONLY way I'm going to be able to safely feed my son this year is to grow all of his food from scratch.
This "Brown Thumb Gardener" is going to HAVE to develop a Green Thumb in order to keep my son alive and thriving. 
Failure isn't an option for me now.
I'm confident I can do it! There has to be some latent farming talent in me from my Nana somewhere, right? (Right?)
Welcome to Brown Thumb Gardener, a new series where I share the trials, tribulations and successes of growing all the food my son will eat this year.
I'd love it if you'd take this journey with me; after all, if I can grow a garden, anyone can!
Are you game?
Then let's get started gardening, folks!
"Wait a sec," I can hear you asking. "It's JANUARY. What on earth does she mean 'let's get started gardening'? It's too cold to grow anything!"
A-ha! Just what I always thought. And you are correct. And you're wrong. Turns out, there's TONS to do in January if you plan to garden!
We may not be at optimal planting time, but it IS perfect planning time!
I visited the organic gardening center in my area and asked a ton of completely ignorant questions, thinking they could possibly steer me in the right direction for my upcoming garden.
The lady there was nice enough to give me their copy of the Baker Creek Heirloom Seeds catalog (the fact that Zac was screaming bloody murder because I wouldn't let him down surely had something to do with her desire to give us the catalog and get us out of there! Oh, well. It was nice of her, anyway.).
First of all, I need to pick out my seeds. For me this isn't a simple exercise of "okay, what looks like I'd enjoy eating". Instead, it's me picking out all the food trials we plan to do for Zac this year.
After checking the FPIES reference chart for food trials and considering my options, I flipped through the seed catalog and picked out all the things I want to grow.
23 different foods isn't too much to start with, right? (Yes, that's sarcasm.)
Unfortunately, I can't think of anything I'm willing to cut out, due to the fact that it is so hard to find safe versions of most of these foods for Zac.
Well, my Mama always says "Go big or go home!", so my garden is gonna be BIG this year, y'all!
Here's what I've picked out:
And from Seed Saver Exchange I'm ordering:
And somewhere along the way I'm going to get some potatos to plant. (According to my co-op, I ate 600 pounds of potatos in 2013!! I need to plant a lot of those!)
So there is my garden for the year!
Now I'll move on to the next steps, but I thought I'd share this first step to see if anyone else wanted to share gardening stories, tips, and experiences and take this journey with me.
Any other Brown Thumb Gardeners out there that want to become Green Thumb Gardeners? Leave a comment and we'll share stories!
__________
What veggies do you want to grow this year?