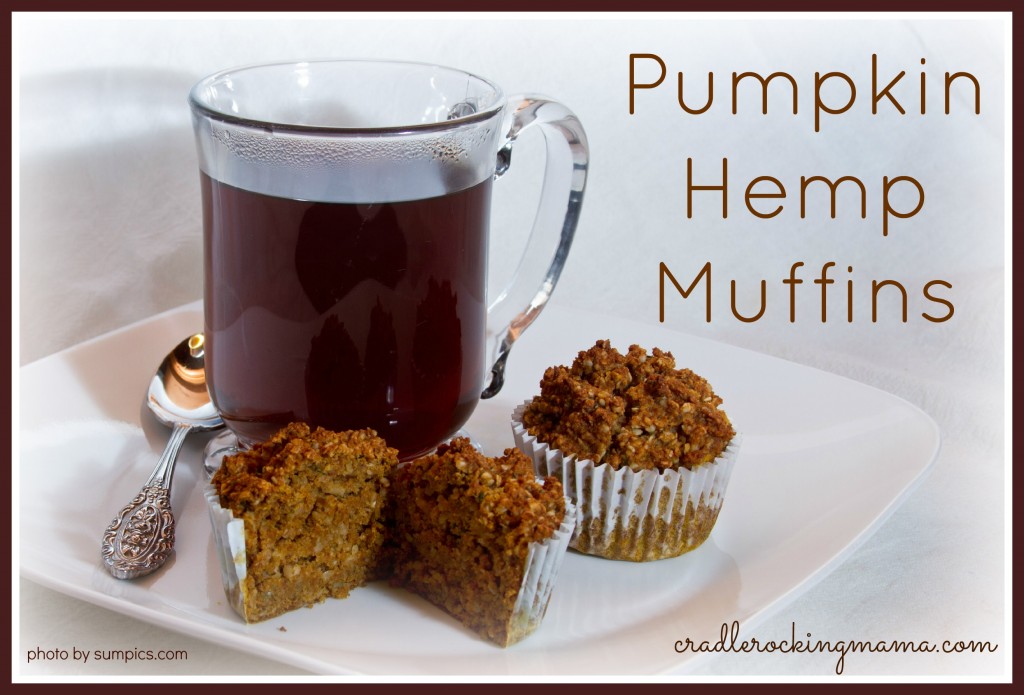 Jed constantly digs through the pantry. He likes to stack and sort things, and pantry food is perfect for that.
Today's recipe comes from one of his pantry discoveries, and the subsequent nagging about two items we haven't used before: canned pumpkin, and hemp hearts.
I always stock up on pumpkin when it's on sale, and I'd bought hemp hearts in preparation for a hemp trial for Zac.
Did I have any clue what to DO with hemp hearts? Not a chance! But I knew people who did, so I wanted to have them on hand if a trial date ever came. When I saw them on sale at the co-op, I bought a few bags.
So there they both languished…until Jed nagged and nagged and NAGGED that he "want to eat these!" so much I finally decided to find something I could make out of both ingredients that would shut him up satisfy him.
So I searched and found two recipes that would individually satisfy using both ingredients. Except…I wanted to use them together. So I did one of my favorite things to do in the kitchen.
I tweaked.
Most of my inspiration came from Dreena Burton's Plant Powered Kitchen and her Apple Hemp Muffins, but after all my tweaking, this is what I created: Pumpkin Hemp Muffins; vegan, gluten free, dairy free, and fructose friendly.
And yummy. Did I mention yummy?
Here's what you do:
Get all your wet ingredients in a bowl and blend them together.
Get all your dry ingredients in a bowl and either sift them or stir them until well combined.
Pour your wet ingredients into your dry ingredients, mix until combined (don't over mix)…
and scoop into a muffin pan!
Then bake 'em…
…and eat 'em!
Very easy.
You could easily make some substitutions in this recipe. Adding some dried fruits or nuts would probably make these extra rockin', too.
One thing that might be daunting to FPIES Mamas is the extensive ingredients list for these muffins; we tend to shy away from things with too many "parts" because each one must be trialed.
I have to tell you, I made several full batches of these muffins trying to get it right. In the end, I think you could do whatever flour mix you want – as long as you have some kind of 'starch' in there somewhere…tapioca, arrowroot, potato, etc.
These are also NOT top 8 free, due to my addition of almond flour and almond milk. Those two ingredients could easily be subbed out with safe alternatives to make these top 8 free.
Just make sure the total quantity of flour and starch is 1 1/2 cups, and if you can't use oats, feel free to either sub quinoa flakes or another cup of safe flour.
If pumpkin isn't safe for you, you can always use applesauce or mashed banana instead, and I'm sure it would be just fine. Just make sure the same quantities are used!
But as is, they're moist, tasty, and healthy little powerhouse muffins to satisfy a breakfast on the run (or a leisurely coffee break) and they did exactly what I wanted them to do: STOP THE NAGGING!
Jed certainly enjoyed his muffin! He ate his with coffee, no less. (Decaf, of course!) Darrel liked them, too.
So glad I have a way to use hemp AND pumpkin in one fell swoop – and just in time for Fall Baking! 
Enjoy!
__________
PUMPKIN HEMP MUFFINS
makes one dozen
Wet ingredients:
– 1 c. pumpkin puree
– 1/2 c. maple syrup
– 3/4 c. almond milk
– 1-2 tsp. vanilla extract
Dry ingredients:
– 2/3 c. almond flour
– 1/3 c. millet flour
– 1/4 c. quinoa flour
– 1/4 c. arrowroot starch
– 1 c. quick-cook oats
– 3/4 c. hemp hearts
– 2 tsp. baking powder
– 1 tsp. baking soda
– 1/4 tsp. sea salt
– 1 tsp. cinnamon
– 1/4 tsp. nutmeg
Pre-heat oven to 350 degrees.
Add all the wet ingredients to  a bowl; mix well.
Add all the dry ingredients to a different bowl; sift together or stir until well-blended.
Pour the liquid ingredients into the dry ingredients and stir until just combined; do not over mix!
Put cupcake liners into a muffin pan; fill each one very full with batter.
Bake for 24-28 minutes until done; test with a toothpick.
Let cool completely and enjoy a healthy muffin!
__________
What's your favorite way to use hemp hearts and pumpkin?
__________
This post shared with:
Real Food Wednesdays, Thank Your Body Thursday, Healing With Food Friday and Frugal Days, Sustainable Ways.