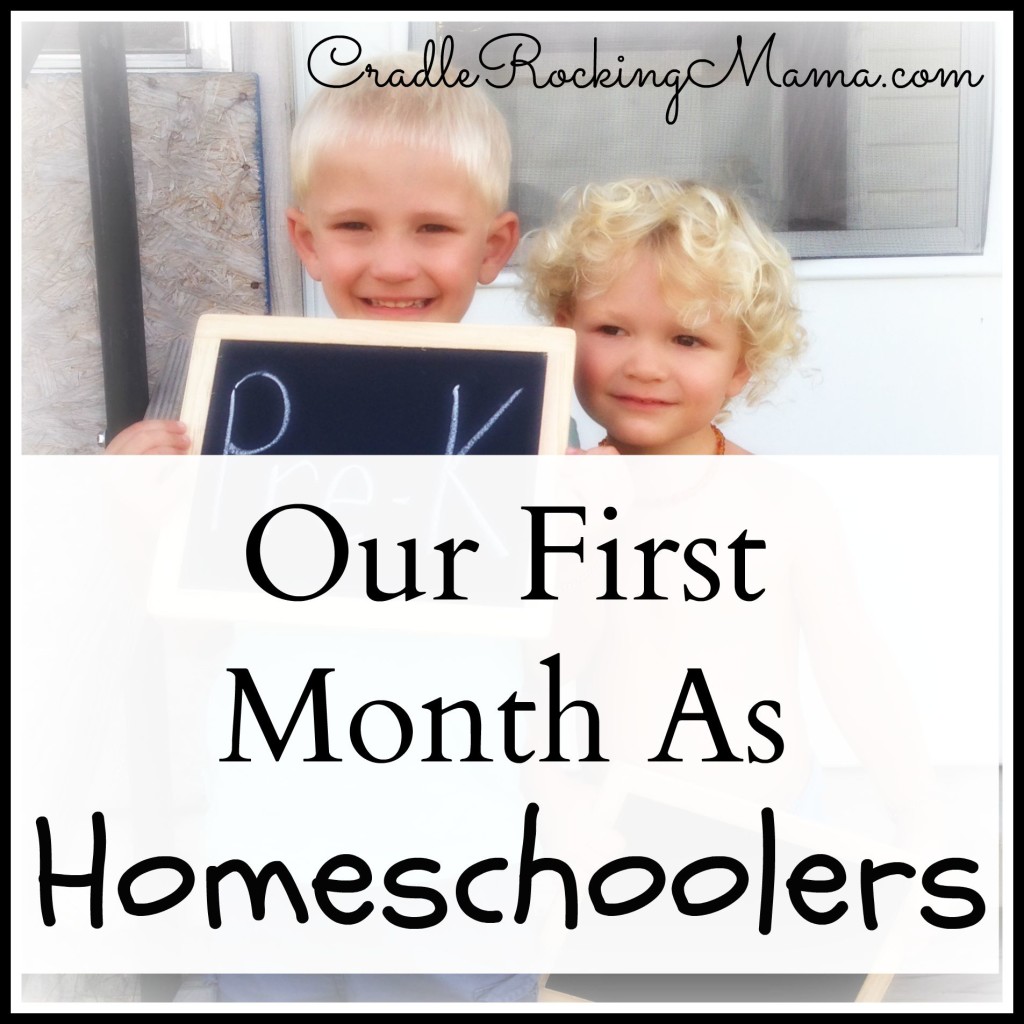 At 9:00 a.m. on August 4th, the boys and I went to Jed's first day of school.
I really love the commute; we just walked across the house and into our new classroom!
That was my first week ever as a homeschooling Mom, and I had no idea how it was going to go.
So many questions: Will I be up to the task? Will Jed love it or hate it? Will he actually learn anything? Is this going to be the best decision we ever made, or a monumental disaster?
Now that a month has passed I have to say: HOMESCHOOLING IS AWESOME!
Jed loves school.
Let me clarify that: Jed loves, loves, LOVES school!!
Every morning he wakes up saying he wants to start school NOW. At one point, Darrel planned to take the boys swimming after school, and Jed told him he did not want to go swimming; he wanted to do more school!
And check out this little beauty…
Yes, Jed actually complained he had a stomach ache and knew the only thing that would fix it was more school.
I'm beside myself with joy. 
Now for some logistics. Some might wonder how we are handling school with my work schedule. As a Flight Attendant, I'm gone for days at a time, after all.
My intention was to school Jed on days that I was home and let him have days off when I'm at work. On that schedule, he might have school 12 days straight, and then have 5 days off.
My Mom was persistent in her belief that Jed needed to do some schoolwork more consistently than that. She wanted to continue teaching him when I was gone.
I am not – yet – comfortable with that. In these early days of establishing our homeschool "routine", I knew that I would go crazy trying to make sure his education stayed on track when I was away.
I'm kind of a control freak on some things.
Still, Mom had a good point. Days and even weeks off with no school might lead Jed to stop taking school seriously, and leave us battling when I returned from work.
My compromise was simple: I create "homework packets" for either my parents or Darrel to go through with the kids when I'm gone.
I had originally intended to give Jed weekends off, but that quickly became an impossibility because Jed begs for schoolwork every day!
So far, he has either had school or done homework packets every single morning since August 4th, and is ecstatic to head to the classroom every single time. Some mornings he even goes to the classroom before I do; I find him digging through my desk to find his assignments for the day.
While technically Jed is of Kindergarten age, when Darrel and I flipped through Kindergarten curriculum at the homeschooling convention we attended back in May, we realized something: Jed was not ready for that.
I'm a firm believer in the concept that the best "education" for small children is to play. That, combined with our complicated food issues, meant that Jed never attended Pre-school.
Apparently, nowadays children are being taught in Kindergarten what my generation learned in First Grade. Which means they are taught in Pre-school what I learned in Kindergarten. (Yet somehow America's high school seniors rank terribly low according to international standards. Hmm.) Insane!
The lady at Alpha and Omega suggested we begin with Preschool curriculum to help Jed bridge the gap between what he already knows, and what he will need to know to begin Kindergarten.
Flipping through the Horizons Preschool texts, we realized that Jed already knows 50-60% of what it covers; the remaining lessons will bridge the gap.
Since he knows so much of it already, I'm making my life more complicated by re-writing the lesson plans to combine 2-3 lessons per day. At this rate, we should be able to finish Pre-school by the end of December, allowing us to begin Kindergarten curriculum in January.
(Although we can all agree that my life just needed more complications, right?)
For the "homework packets" I put together, I take small projects from the daily lessons I have with Jed and set those aside for my parents or Darrel to do with him when I'm gone.
I also have myriad little activity books for Pre-K and K levels that we've purchased over the last few years, and I simply copy pages from those to add to the stack.
If, in our school that week, we covered letters A and B and the number 1, I assemble pages from those activity books that cover that information so Jed gets more practice at writing those letters and learning the phonics behind them.
That keeps the curriculum firmly in my hands, while keeping Jed on task, on routine, and eager to learn more.
It's working, for now.
One thing I hadn't counted on was how time consuming being a teacher would be!
Even if I were not re-writing the lesson plans, the prep work for a day of teaching would still take a good half hour.
The lesson plan re-writes take me at least half an hour per to complete.
Assembling the homework packets takes 1-2 hours.
The planning time for each class is almost as long as the actual class!
I may have only 1.5 students (Zac wants to "go to school" each day, too), but becoming a teacher is truly an adjustment! Suddenly I have even more respect for teachers than I already had.
We are still in the early days of homeschooling, but I'm already seeing clear learning styles from Jed. This child simply thrives with hands-on, interactive activities, and loves challenges and "tests" he can be the best with.
Talking to him? Quickly involves our lessons being hijacked by a squirming, squiggly, wiggle-worm of a distracted child. It takes many minutes of our lessons to get him back on track whenever I try to teach via explanation.
Still, our daily school takes only about 2 hours per day of class time, even with flying through multiple lessons each class…and Jed is just sucking information up like a sponge.
We've already covered letters A-J, both upper and lower case: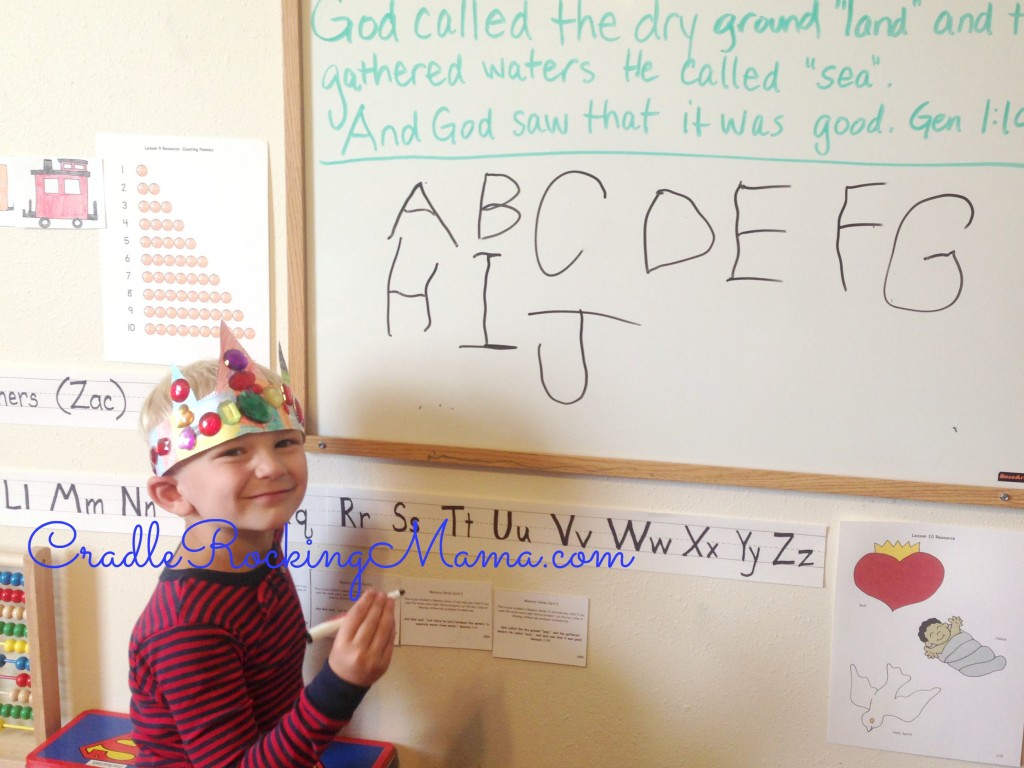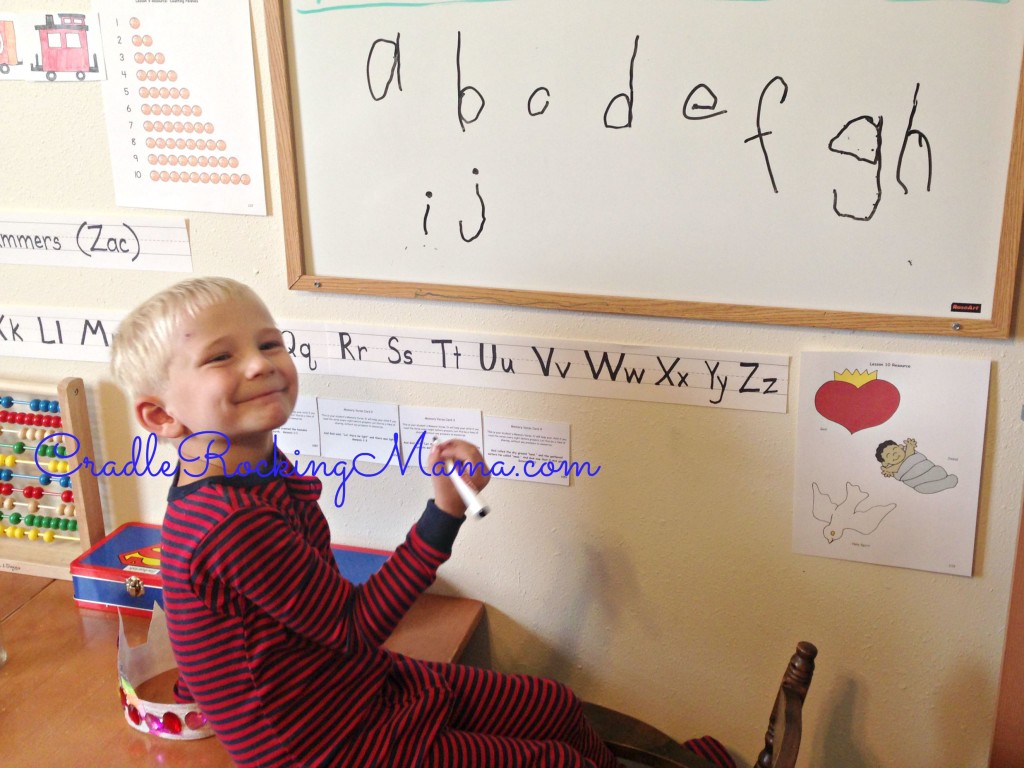 In a month he has memorized 4 Bible verses, plus shown that he knows all his colors, most of his shapes, has counted to 78 (though he's only really comfortable with numbers 1-20), recognizes letters we haven't officially covered in class yet, and begged to learn to read. I'm truly amazed.
Thanks to all our reading together, he even earned a free book from Barnes & Noble from their Summer Reading Program! When he learned he had earned that book for all his hard work, he got so excited he could hardly see straight! Immediately, he begged me to teach him to read so he could read even more. Love. It.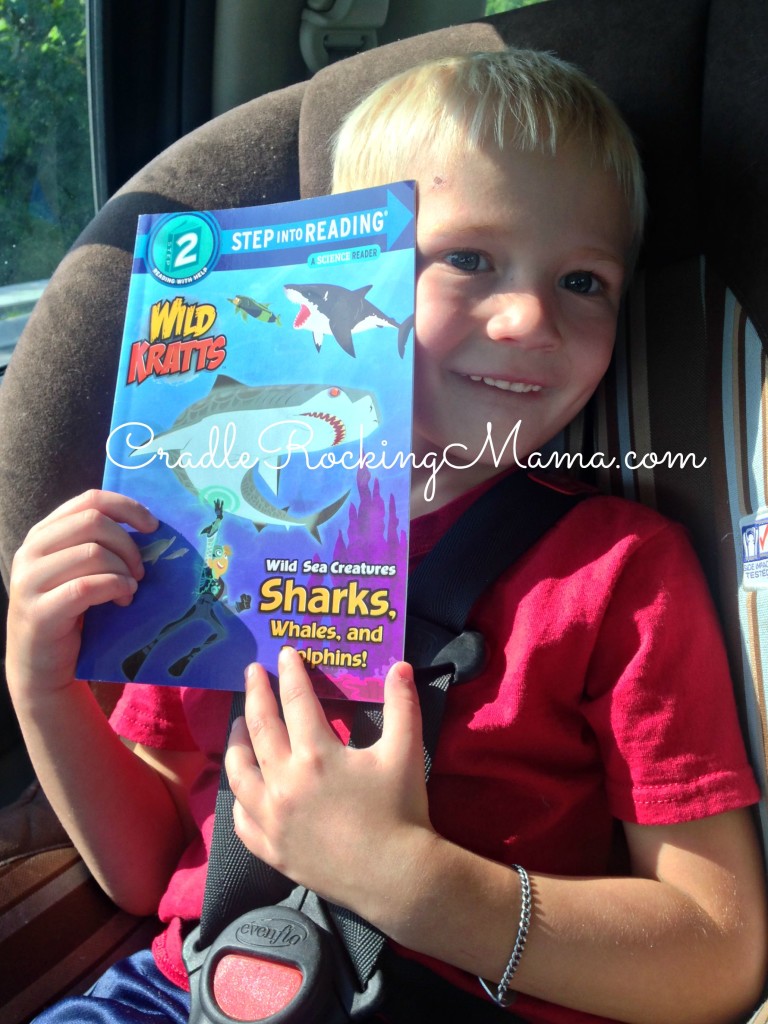 Plus, this is just flat-out fun!
Already, we've stayed up late to watch a meteor shower (school assignment!), started a mural, done more arts and crafts in a month than we did in the entire preceding 5 years, tackled an obstacle course (pretending to be worms digging through the soil), played BINGO for shapes, colors and letters, and (my favorite) played with a parachute.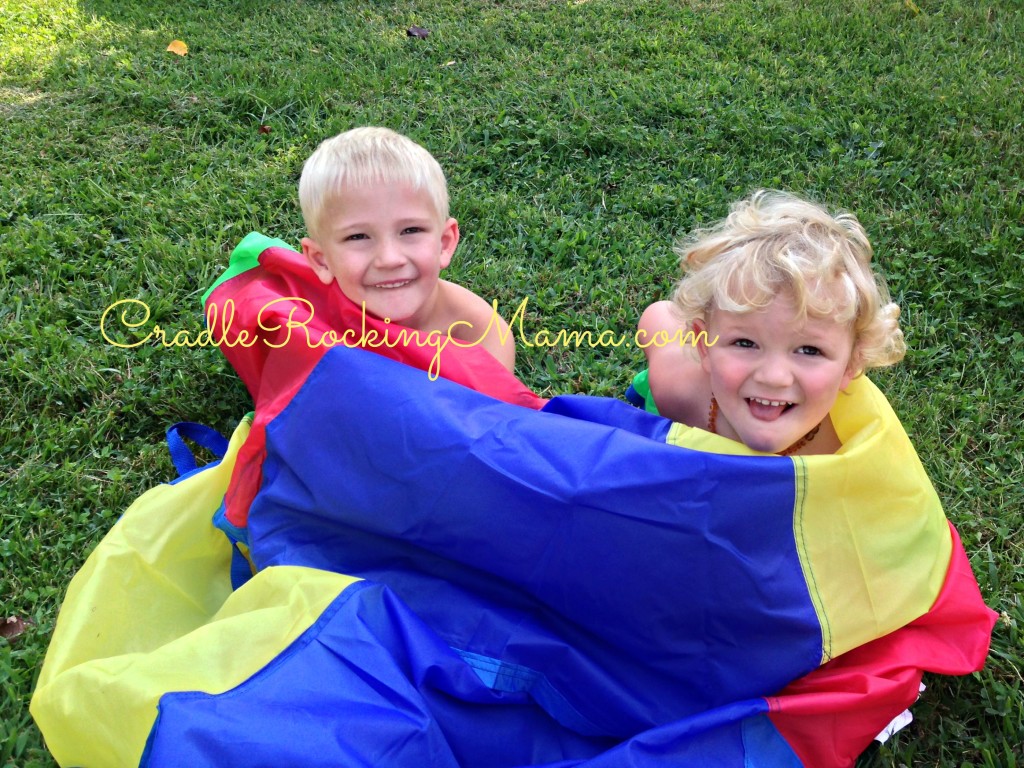 Homeschooling is turning out to be a fabulous fit for our family, even if I'm experiencing a few growing pains along the way trying to figure out how to juggle all these balls. Jed is learning a ton, and so am I. Turns out? I'm pretty good at this teaching thing.
Guess I knew what I was meant to do back in college before my life trajectory changed.
Well, I didn't end up teaching for a living, but now, I'm teaching for my son's life. I think that's much better.
---
How long did it take you to get the hang of homeschooling? Is it typical for kids to get this excited about school?