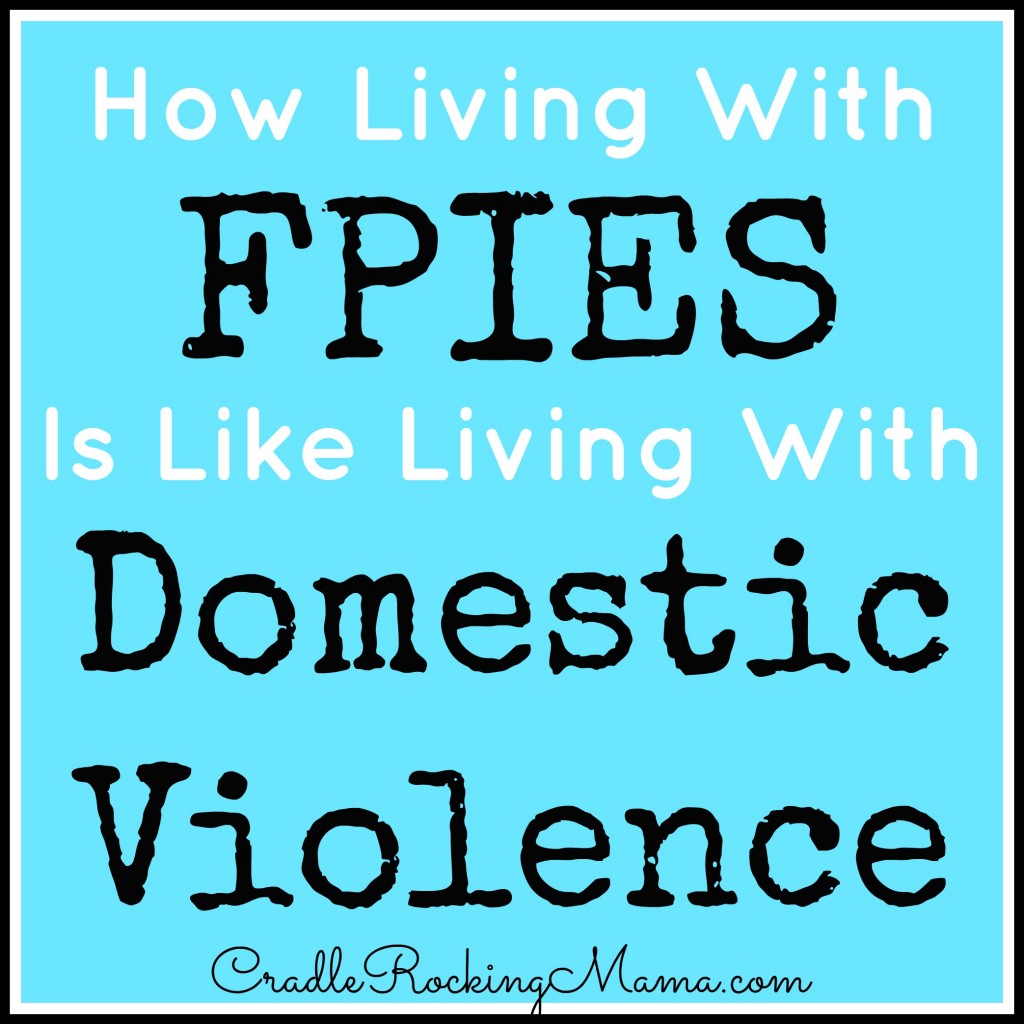 Please click over and read THIS before you continue to read this post. It will help clarify a lot of what I say in the following analogy. Thank you.
If you are or have been the victim of domestic abuse and violence, this post may upset you.
If you are currently in a domestic violence situation, GET OUT. There are links for help at the bottom of this post. You do NOT have to live like that. Start to believe this: people do care about you!
__________
Last week during a conversation about FPIES and food trials with a friend, I commented that "FPIES is like an abusive husband".
Later on I thought a bit more about it and realized: I may have hit on something with that analogy.
Now, of course living with FPIES is not the same as living with domestic violence, not at all; but the psychological similarities were shocking to me when I thought about it. For me, the similarities served as a way to convey the emotional stress of living with FPIES to family and friends in a way they might understand. 
Here is a list of four general characteristics of battered woman syndrome:
The woman believes that the violence was or is her fault.

The woman has an inability to place responsibility for the violence elsewhere.

The woman fears for her life and/or her children's lives.

The woman has an irrational belief that the abuser is omnipresent and omniscient.
Further, a battered woman is described as a woman who has been through two "battering cycles". A battering cycle has three phases and is defined by the law as:
tension building phase

explosive battering incident

honeymoon phase
How is FPIES like this?
On a daily basis for FPIES families, FPIES is everywhere (point 4). FPIES parents rearrange their lives to accommodate the often bizarre demands of FPIES. We change our habits, our diets, our routines, our "rituals", our parenting styles.
We avoid play dates, social activities, interactions with people and places that were once meaningful because they are too risky with FPIES.
If we do go out in public, we're on high alert at all times, knowing that the smallest thing could trigger FPIES (phase 1).
No matter where you go or what you do, FPIES is lurking…just waiting for you to let down your guard and "mess up", triggering a physical attack on your child (phase 2).
And you do, indeed, fear for your child's life (point 3). While there are no documented cases of FPIES children dying from the disease (that I know of, anyway), FPIES parents know this disease and understand that an FPIES reaction – left untreated – could potentially lead to death.
I've heard many FPIES Mama's wonder how many cases of SIDS are actually undiagnosed FPIES babies who didn't vomit and instead went straight to shock in their crib.
Even though FPIES parents know that FPIES is the reason our children are sick, we are the ones who feed our children.
So when we feed them a food that triggers FPIES, we feel guilty. It was OUR fault…WE did that to our child…I made my child sick (point 1).
We know , intellectually, that FPIES is the reason; because we are the parents, though, the people who are supposed to protect our children from everything and anything that could hurt them, we take the blame on ourselves. We internalize the blame and guilt and make ourselves feel worse.
Even more, there's the nagging wonder many FPIES parents have that they, in fact, gave their child FPIES.
Some wonder if it was their genetics. Others wonder if it was what they ate during pregnancy, or some necessary medicine they took while carrying their child.
FPIES parents will feel guilty for triggering a reaction in their child even if they were following doctors orders! If the doctor insists on a food challenge, or tells the parent to push through symptoms or trial a new food, and that advice leads to an FPIES reaction in the child…well, we may  be upset or even angry at the doctor (especially if they didn't listen to us) but in the end, we will be most likely to blame ourselves  for making our child sick (point 2).
After all, we're the ones that put the food on their tray table. 
During food trials, FPIES even operates on a cycle that is strangely similar to the phases of domestic violence: 
Tension building – first ingestion of the food, wait 2 hours (or longer) on pins and needles, watch every tiny action or sign from your child with your stomach in knots until the food trial persists long enough through that tension to prove the food safe OR…
Explosive Incident – profuse vomiting, shock, diarrhea, dehydration, and possible hospitalization, followed by…
Honeymoon period – once recovered from the FPIES reaction, your child will behave perfectly normal and happy and you'll feel a weight lifted from your shoulders and a lightness in your belly…
…until the next food trial begins.
Women (and men) who suffer from domestic violence are often later diagnosed with PTSD (Post Traumatic Stress Disorder). 
PTSD shows up in many different symptoms, generally grouped into three categories:
1. Re-experiencing symptoms:

Flashbacks
Bad dreams
Frightening thoughts

2. Avoidance symptoms:

Staying away from places, things or events that are reminders of the experience
Feeling emotionally numb
Feeling strong guilt, depression, or worry
Losing interest in activities that were enjoyable in the past
Having trouble remembering the dangerous event

3. Hyperarousal symptoms:

Being easily startled
Feeling tense or "on edge"
Having difficulty sleeping, and/or having angry outbursts
I wonder how many FPIES parents would or will be diagnosed with PTSD as time goes on? 
I may be completely wrong about all of this.
These are just some analogies I recognized and was startled enough by that I wanted to share, in case someone else might find this to be a way to explain to any family or friends who downplay your stress levels what life as an FPIES parent sometimes resembles. It might show them that you are, in fact, dealing with a highly stressful situation.
After all, after thinking this through a bit, I'm of the opinion that if we could somehow create a physical, human form of FPIES…we'd be able to have it arrested for abuse.
Or at least get a restraining order against it. 
__________
If you found this post because you are in an abusive relationship, I give you my sincere empathy and love. This post is meant in no way to diminish what you are experiencing or have experienced. This was written purely to express my thoughts about the seriousness of the disease my child (and many of my readers children) live with every day. Comparing FPIES to Domestic Violence is a striking analogy to convey the seriousness of FPIES; we all know how deadly and dangerous Domestic Violence is for its victims.
If you are in an abusive relationship, PLEASE GET OUT. Get help.
In the US: call the National Domestic Violence Hotline at 1-800-799-7233 (SAFE).
UK: call Women's Aid at 0808 2000 247.
Australia: call 1800RESPECT at 1800 737 732.
Worldwide: visit International Directory of Domestic Violence Agencies for a global list of helplines, shelters, and crisis centers.