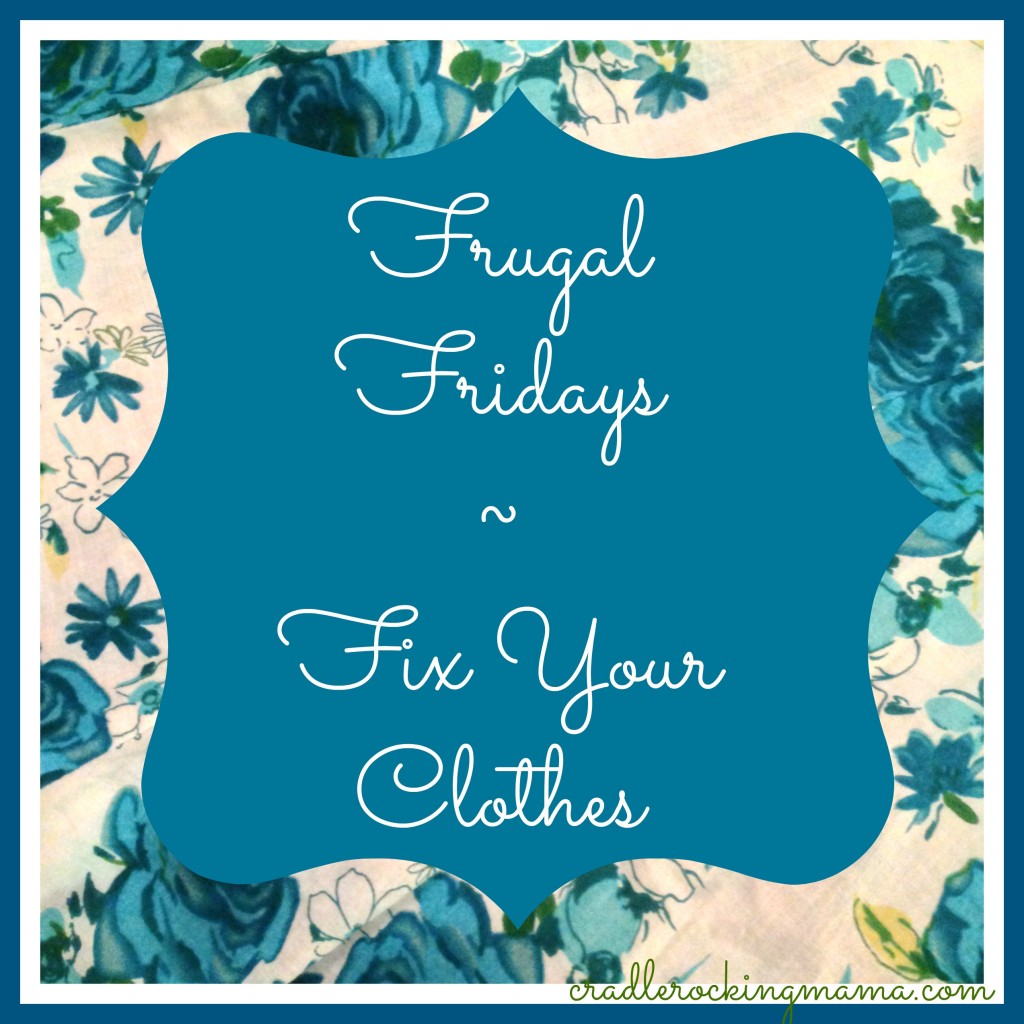 Let me make something perfectly clear: I am NOT a seamstress.
I'm crafty; you give me a project, I can likely make it happen. But my forte is NOT sitting in front of a sewing machine.
I've got the basics down, sure, but every dress I've ever made for myself is a wrap dress because I canNOT figure out buttonholes or zippers.
Also, every article of clothing I've ever made for myself is, let's say, absolutely NOT couture.
My seams are decent enough, but my edging is rough and jagged and hemlines are often wonky.
Give me a crochet hook any day!
That said, I'm now trying hard to live by the Depression-era motto of "Use it up, wear it out, make it do or do without."
Since losing 63 pounds, I've been rebuilding my wardrobe via thrift stores. We simply can't afford for me to buy anything new. Now, we can't even afford much at thrift stores.
Fortunately, in my Pinterest browsing one day I stumbled across The ReFashionista, and I was hooked! Granted, some things she's made I personally don't like at all, but the number of bombshell, knock-em-dead awesome things she's created from butt-ugly thrift store finds is STAGGERING!!!
It's downright inspirational, y'all.
So inspirational, in fact, that I decided to take a closer look at some of the clothes that were boxed up and ready to be donated. Now, these are clothes I used to wear regularly…and they're all at least 6 sizes too big for me now!
Surely I could chop them up into something new that would fit and flatter, right?
And if I blew it, well, they were going to be donated or tossed anyway, so no harm done, right?
With that thought rolling around in my head, I started digging and planning…and quickly felt my courage wane.
(Remember – I'm not a seamstress.)
There were a few articles, though, that I thought my minimal skills could make decent again; not with refashioning, but through some basic alterations to shrink them down to size.
So today's Frugal Friday tip: Fix Your Clothes.
Here's what I started with:
This little skirt is one of my favorites. I bought it on a layover in Canada years ago and love wearing it in the summer!
However, with the weight loss, you can clearly see that this sucker was not going to stay up on my body, no way, no how. 
Fortunately for me, this is a panel skirt. And wouldn't you know it? The amount needed to make this skirt fit just happened to be exactly two panels worth of material!
So I dug out a seam ripper and went to work one afternoon. I removed two seams, pinned the new sides together, and re-sewed the panels together. 
It took a grand total of 45 minutes (during which time the whole family was watching a movie) and voila! An AWESOME fit, and a SAVED SKIRT!
I'm very pleased with this.
So rewarding knowing that I didn't have to spend hours digging through the racks at Goodwill and pay $3.50 for a summery skirt, when all it took was a little time and perseverance and I was able to save something I already loved from the donate pile. 
Now for the next example:
That is a wool wrap skirt that I love to wear in winter, topped with a knit pullover that doesn't look like much but always seems to work with whatever outfit I want to wear – jeans, skirt, slacks, it doesn't matter. That pullover was always perfect.
Except that it freaking HUNG off of me like I was playing dress up in my Mommy's clothes!
The skirt was easy: it's a wrap skirt held in place with two buttons. I simply snipped the buttons and re-sewed them onto the skirt in the right place to make the skirt fit.
I did learn one nifty tip about knotting the end of your thread when hand-sewing (that most of you probably already know, but I'm going to share it anyway): thread the needle, then point the needle at the tail end of the thread.
Then, holding it like a big circle, wrap the end of the thread around the needle several times and pull it through, and you've got a quick and easy knot! (And I'm sorry my step by steps of this project are non-existent; I was far too busy concentrating to remember to snap photos.)
The pullover was a little tricky. I took some advice from the ReFashionista and put it on inside out and had Darrel help me pin where it needed to be taken in.
Then I carefully took it off and began sewing up the new seam.
I had to go back and do some additional taking in in the armpit area, but in the end, after removing almost 4 inches of material, I had this:
After seeing the picture, I decided I don't like those boots with the outfit.
But other than a change in footwear, I couldn't be more pleased with this save! (Happy Dance! I have my pullover back!)
Now, some of this might seem like child's play to some of you, and for others it may seem like rocket science. Whatever your skill level, I promise that if you have an item of clothing that is too large (a common problem for those of us on TED's) or just in need of some quick fix, you should really try to tackle it yourself.
If you're scared to mess it up, try it – but don't CUT! Then, if it just really isn't working out for you, you can remove whatever seams you sewed and donate it, or take it to a professional to have them fix it for what will STILL probably be far less than buying new.
"Make it do", folks; shop your closet and see what you can do to make your clothes last longer!
Hope that helps!
__________
Have you ever tackled alterations before? Were you confident or terrified? How did you learn to repair your clothes?
__________
This post shared with: