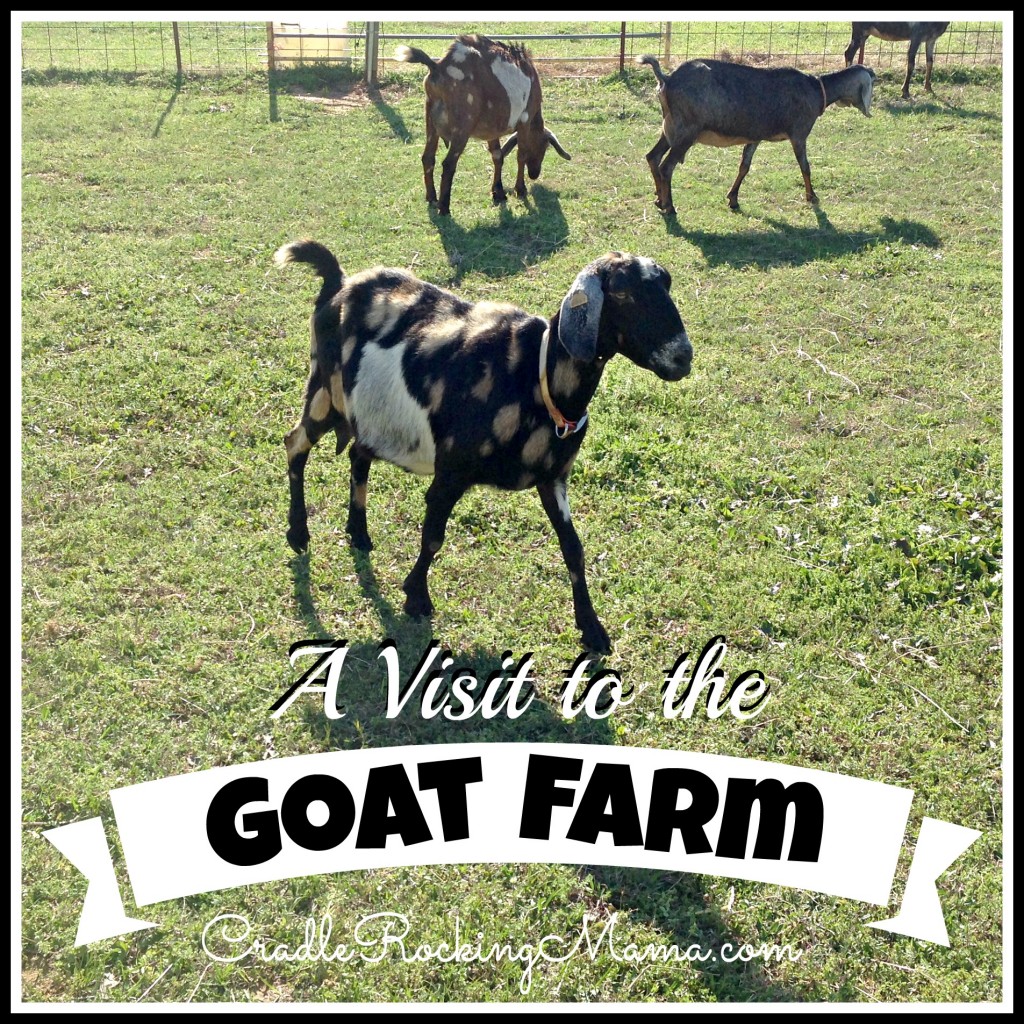 Two weeks ago we drove for the first time to pick up goat milk.
I'd visited Real Milk's milk finder online to find sources of raw milk in our area, and the closest one I could find that was (mostly) grain free was almost a two hour drive away.
Undeterred, my Mom and I loaded up the car with kiddos, an ice chest, snacks, and diapers and hit the road.
The kids weren't thrilled with being in the car that long, but I think they'd agree it was worth it!
Lois runs Rockin' A Ranch out of Ozark, Arkansas, and was gracious enough to give us a tour of her lovely little farm when we arrived.
First we entered the pasture with the mama goats. They were all just adorable! Friendly, too, as they came right up to us. We couldn't get too distracted by the sweet mama's, though, when just over the fence we could see the babies bouncing around!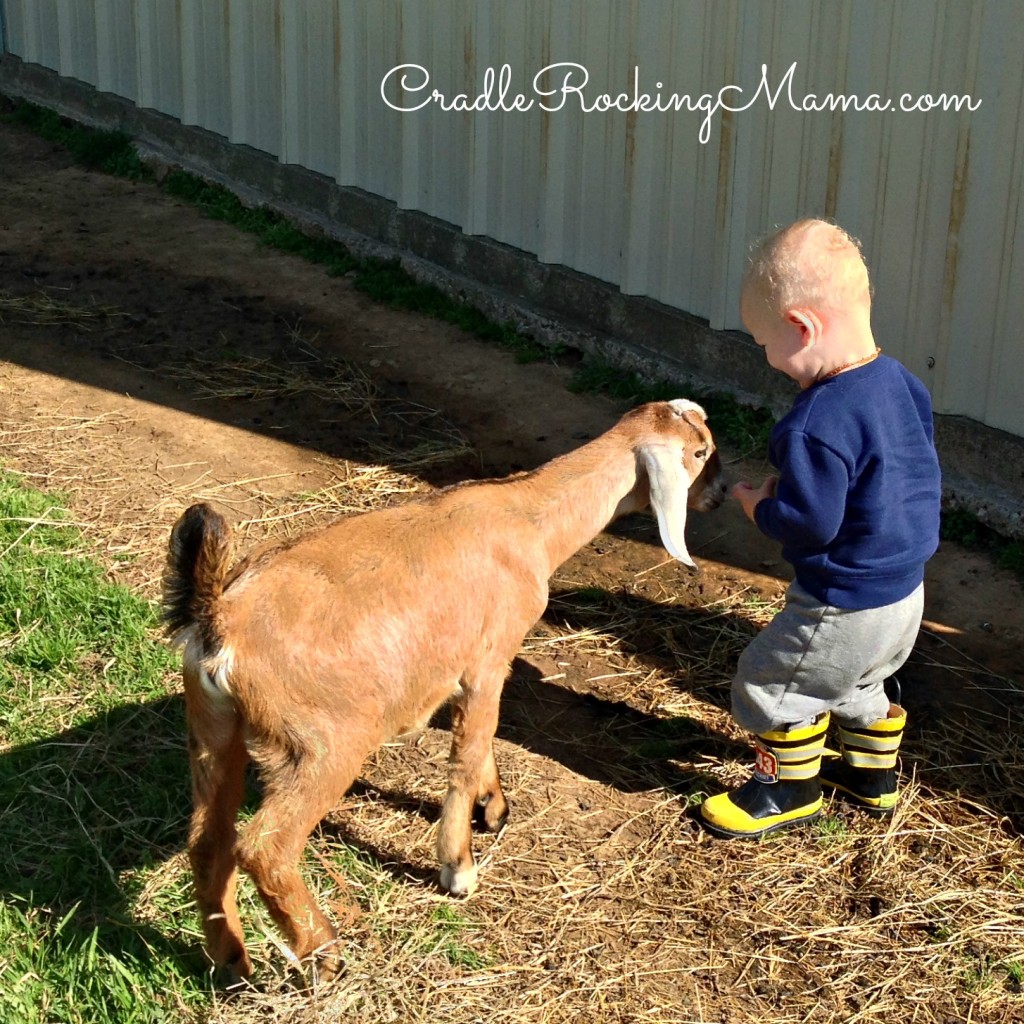 We had to go see the babies! Lois let us into the other pasture with the kids and oh-my-goodness! I think baby goats are just about the cutest things ever! I've never seen them in person before, but I couldn't stop laughing over the way they bound and hop around.
It is precious.
MY kiddos liked the goat kids, too! Zac didn't quite know what to make of these strange creatures that kept approaching him; he would giggle and shriek, run away, then run back.
I don't think the goats knew what to make of him, either!
Jed, on the other hand, is absolutely fearless with animals. From the minute he saw the goats, he was chomping at the bit to get to them. With nary a concern, he kept running up to goats, grabbing them around their necks and giving them huge hugs.
Yeah, it was pretty cute.
Not so cute was his desire to climb fences the whole time we were there. I swear I can't keep that kiddos feet on the ground when there is something to climb!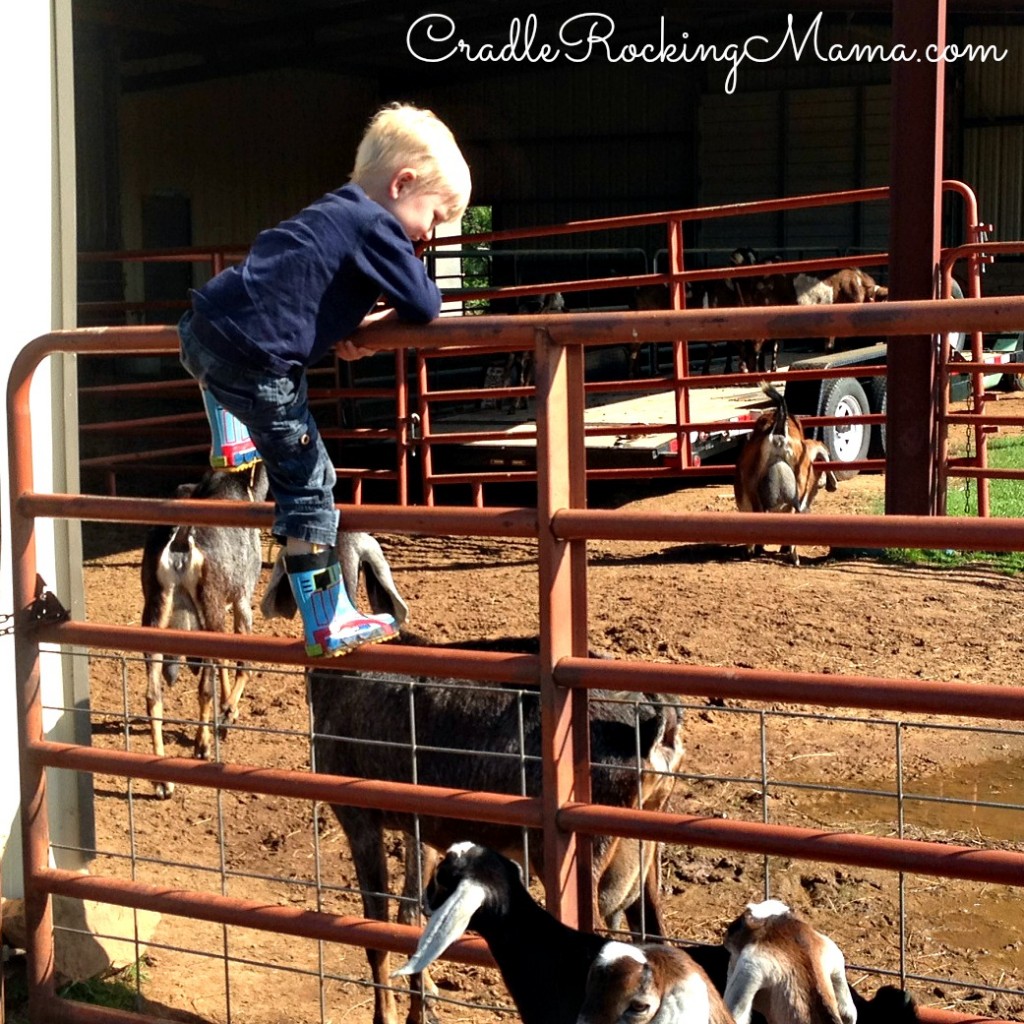 Soon enough, the boys found a mud puddle, making me very glad I'd made them wear boots.
There's just nothing more fun than splashing and stomping in a mud puddle, doncha know?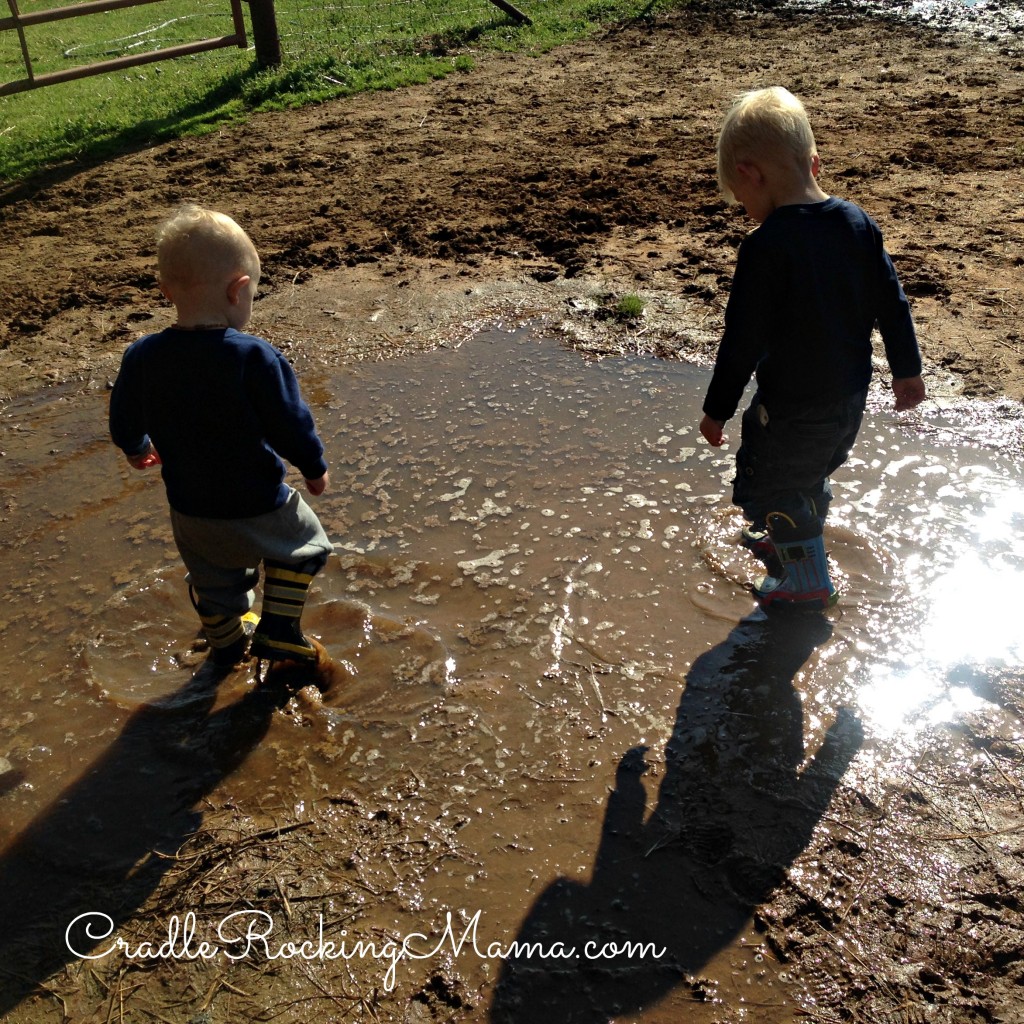 Lois took us in to her barn to show us where she milks the goats. She and her husband built a nifty milking station inside that means she can stand up to milk the goats, and can milk all of them in under half an hour – all while in the comfort of a semi-climate controlled room! It's awesome for its ingenuity.
My boys, of course, just liked that it had steps and was a platform to run around on.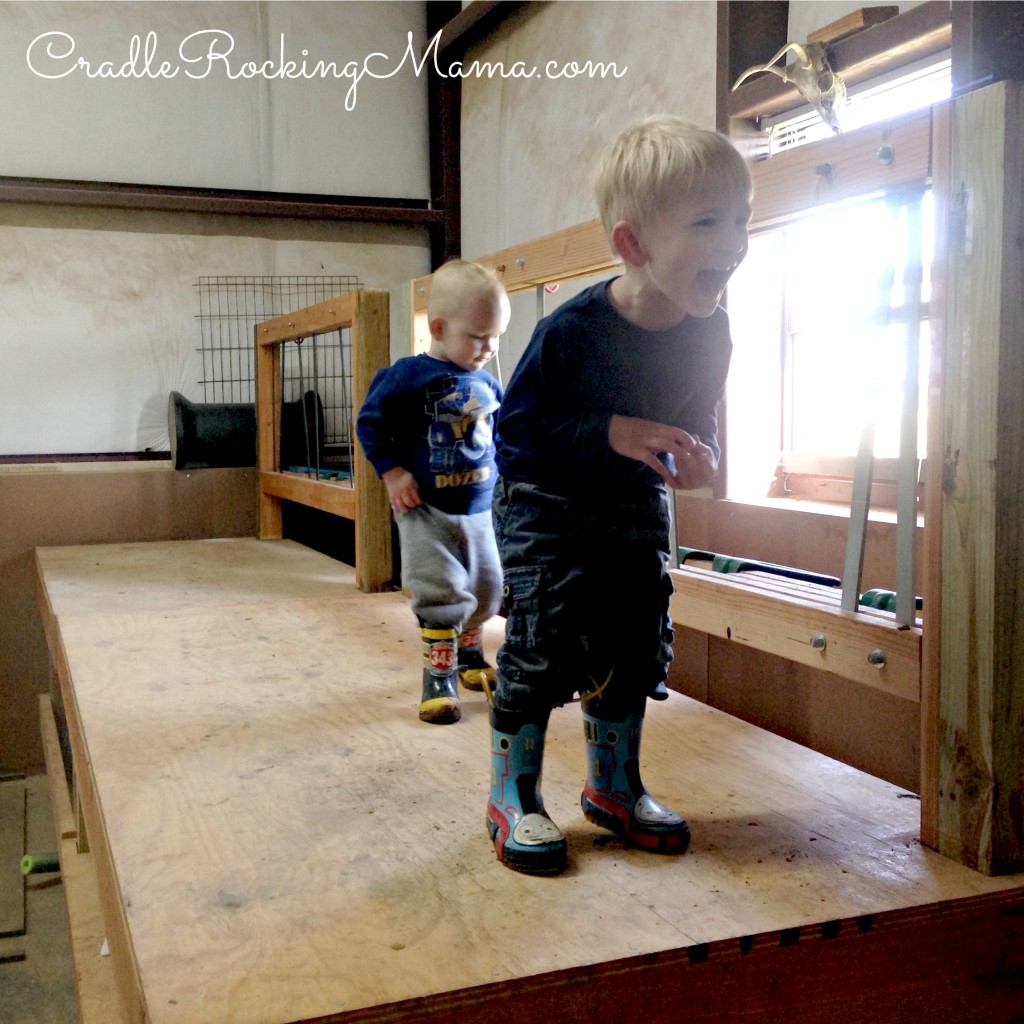 I don't think it needs stating that Lois was very kind and tolerant of my children.
On the way out of the barn, we got a neat surprise: all the OTHER animals she has had come for a visit!
Seeing people in the barn made them all think "Hey! I might get some food!" So they moseyed on over to mooch some treats from us.
Jed. Was. In. Heaven!
Horsies! Right there!
We're really trying to teach Jed how to behave around horses. I think I mentioned he's fearless; he'll walk under their bellies, right behind their legs, and he lets off shrieks of excitement at random moments. In case you're not familiar with them, that is NOT how to act around a horse!
They'll bolt when they're startled, and a horse is – obviously – much larger and heavier than a three year old little boy!
He did okay, but he's not yet ready to hang with horses unsupervised. He gave me about three heart attacks that afternoon!
But it was really precious to watch him giggle while feeding the horses some hay.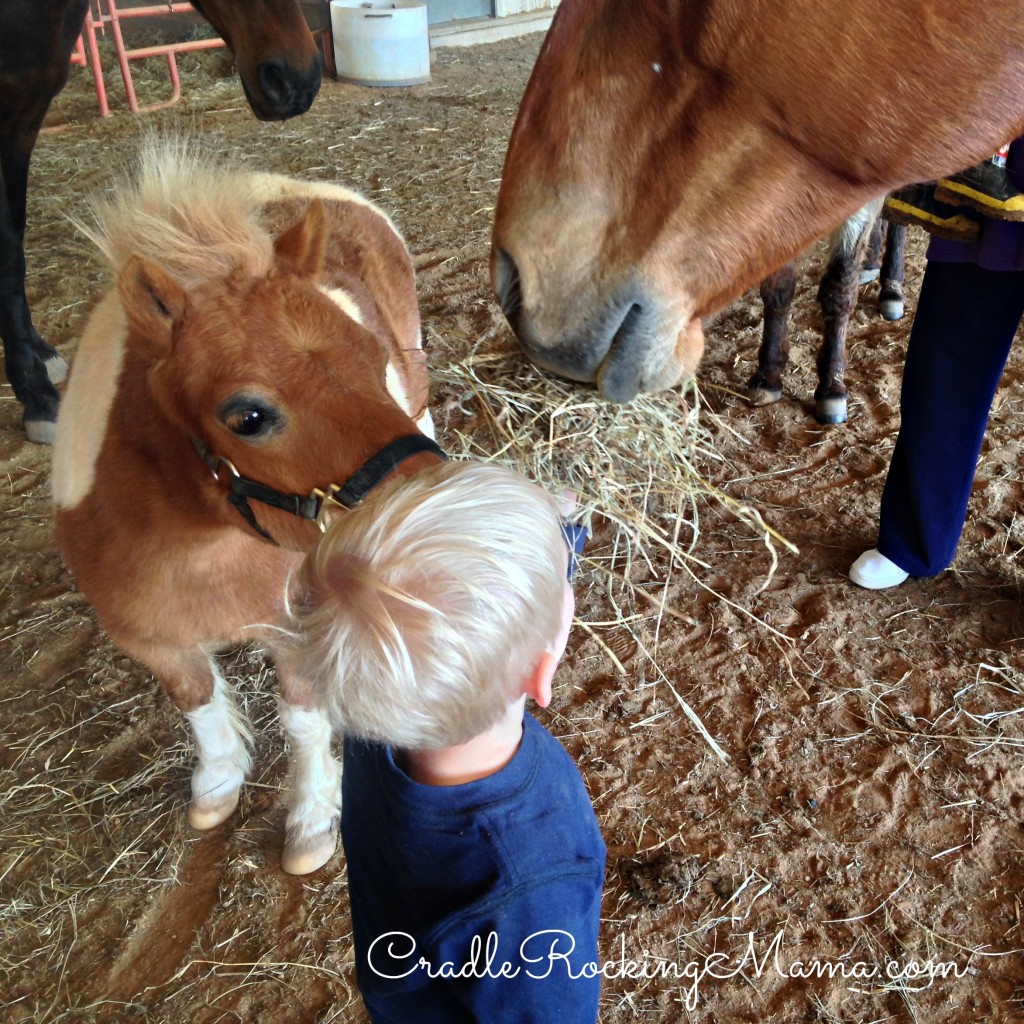 I already mentioned that the boys chugged down enormous amounts of goat milk the first week of the trial. Eventually they drank two whole gallons of goat milk in a week, and we had to make the drive back to Lois sooner than expected.
On that trip she was busy doing farm work and didn't have time to take us around to play with the animals. The boys were sorely disappointed at that!
Not only does she have the goats, horses, and a mule…she has dogs! And chickens! And turkeys! And doves! (And probably some other critters that I missed seeing while chasing the kids.)
Jed and Zac are in love with Lois' ranch, because she has so many fabulous furry friends there to play with. Plus, Lois herself is just a sweetheart. She was so happy to hear that her milk was helping the boys.
That is something I've noticed about small farmers. Every single one that I've dealt with has actually been excited for us and proud of their work when we report that the kids are handling their food well. Marc, who provided us with lamb, was so sad when Zac reacted. I think he was almost as disappointed as we were!
Small farmers CARE. They take pride in what they do and truly want the best for their customers.
Lois is no exception. She was happy to send me home with 4 gallons of milk the last time we went, plus small tub's of her homemade goat milk butter and cheese for us to trial on the boys.
I hope next time we go she'll have the time to let the boys run around and visit the animals, but even if she doesn't, the drive is worth it.
Seeing the boys drinking and loving their fresh milk makes the effort seem effortless.
Besides, my Mom made an accidental discovery on the first trip down there. Did you know that store bought pork rinds only have two items in their ingredient list? Pork and salt. Jed can have those!
So grabbing a big ol' bag of pork rinds to share with Grandma on the drive back from the goat farm has become sort of a tradition.
It's the only time he ever gets that kind of junk food, after all. 
Do you  just love visiting local farms and ranches? What's your favorite thing about "knowing your farmer"?