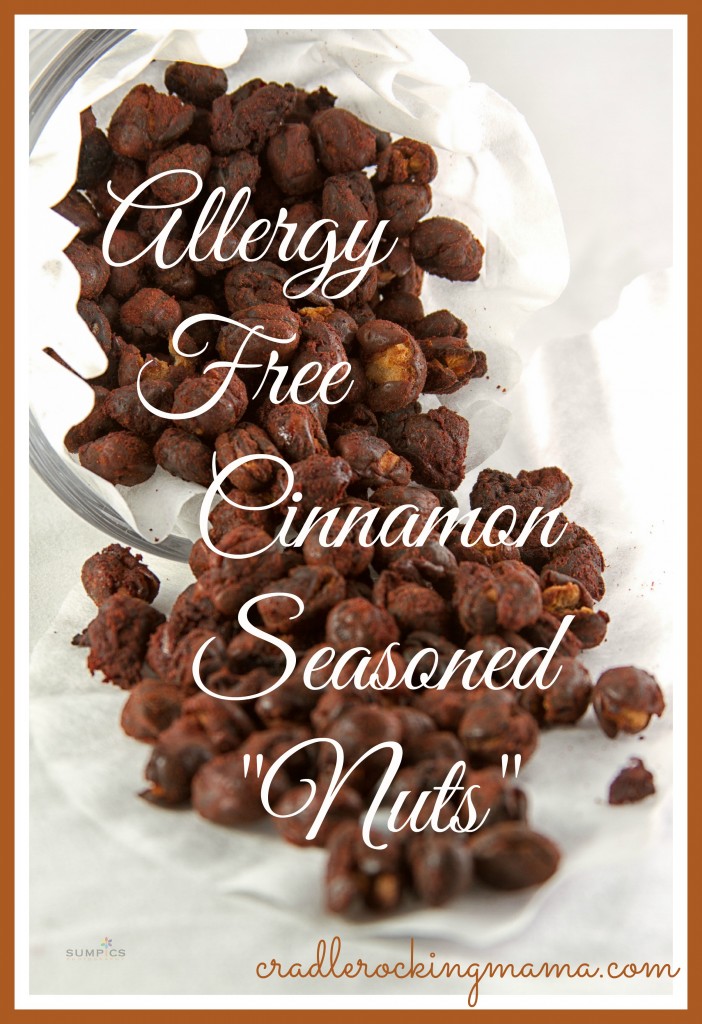 Before Halloween, I was looking around for treat recipes for Jed. Flipping through Living Without magazine, I was intrigued by one of their Halloween recipes: Sweet & Spicy Cinnamon Garbanzo Beans.
I never got around to making it before Halloween, but better late than never, right? So I made it this weekend.
When I read the recipe, I envisioned it making something sort of candy-like. When Darrel tried these, though, at first he thought they were nuts!
Not exactly candy-like, but not bad at all! In fact, I think this is a perfect snack to make for Thanksgiving and Christmas; I always think of nuts – whether seasoned or plain – as a fall/winter/holiday snack.
So, these aren't nuts. But they resemble  nuts.
If you're allergic to nuts, this will undoubtedly fit the bill to give you a nice, seasoned "nut" to munch on this Thanksgiving!
They're ridiculously easy, too.
I made adjustments to the magazine recipe to fit our specific needs. I used fava beans instead of garbanzo, and maple syrup and dextrose instead of honey and sugar, all out of respect to Jed's FructMal.
Feel free to try garbanzo beans, if you like, but I don't know how they'll turn out. And honey and sugar would surely be delicious, if you can use them.
So here's what you do:
Open a can of fava beans, drain and rinse them in a strainer.
Gather the sea salt, oil, sweetener, and cinnamon…
And dump them in a bowl with the beans. Stir until the beans are well coated.
Line a baking sheet with parchment paper and pour the beans into a single layer on the pan.
Bake for 45 minutes, stirring the beans every 15 minutes.
When done, let them cool a bit and store in an airtight container.
I made one version with dextrose and one version with maple syrup, and strangely enough Darrel preferred the dextrose version best.
Play around and figure out which flavor combination you like best, and enjoy the baking process. Your house will smell divine while these cook!
Cinnamon Seasoned "Nuts" - Allergy Free!
Author:
Cradle Rocking Mama (Carrie Summers)
Ingredients
1 can fava beans (2 c. cooked beans)
1 T. oil (I used olive oil)
1 T. maple syrup OR 1.5 T. dextrose
2 tsp. cinnamon
¼ tsp. sea salt
Instructions
Preheat the oven to 400 degrees. Line a baking sheet with parchment paper.
Rinse and drain your fava beans.
Place all ingredients in a large bowl and stir until the beans are well coated in the seasonings.
Spread the beans in a single layer on the parchment paper.
Bake for 45 minutes, stirring every 15 minutes.
Enjoy your nut-free "nuts" this Thanksgiving!
How do you season your nuts (or beans)?
---
This post shared with:
and Real Food Wednesday.